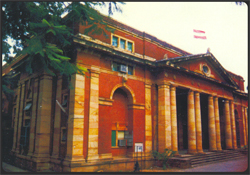 Nagpur News: Advocate Bhanudas Kulkarni, who has been representing Rashtrasant Tukadoj Maharaj (RTM) Nagpur University in various legal cases for about sixteen years, handed in his resignation for the second time on Tuesday. Kulkarni submitted his resignation papers to University Vice- Chancellor Vilas Sapkal, who is yet to take a decision on the matter.
Though Kulkarni gave his "busy schedule" as the reason for the resignation, constant doubts raised over his functioning as legal counsel by members of the University Senate is reported to be another possible reason. Allegations have been made against Kulkarni of flouting rules by charging fees from students, among other things.
Senate members had earlier alleged Vice- Chancellor Sapkal of protecting Kulkarni despite his poor record. Senate member Sameer Kene had submitted a question inquiring whether any court strictures have been passed against Kulkarni in the past. The question was to have come up during the next Senate meeting scheduled for November 3, but was dropped by the Management Council (MC), creating furore among Senate members. A letter has been despatched to counsellor K Sankaranarayanan in this regard.