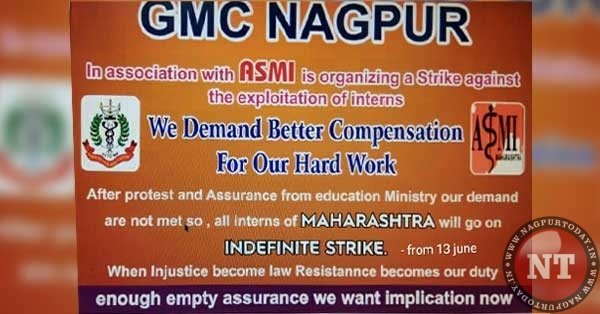 Nagpur: Poor patients will have to suffer a lot from Wednesday as medical services in Maharashtra are likely to worsen due to the indefinite strike called by intern doctors from 13 June to press for their demand of increased pay. The intern doctors in Maharashtra are reportedly the most underpaid medical workers in the country and they are fighting for increased pay since last many years.
Shubham Borkar, the joint secretary of Association of State Medical Interns Maharashtra, said the intern doctors in the State were paid merely Rs 200 per day, i.e. Rs 6000 per month. The State government had assured in 2015 that the payment would be increased from Rs 6000 to Rs 11,000. But the hike was not implemented despite its demand from time to time.
A state-wide demonstration was held on 26 April 2018 and a memorandum was also submitted to the Chief Minister. Then, in a meeting held on 2 May 2018, State's Medical Education Minister Girish Mahajan had assured the representatives of Association of State Medical Interns Maharashtra that the matter would be taken care of within 15 days.
However, even after more than a month had passed, no action was taken by the State government in this regard. Therefore, the intern doctors were left with no option than to call indefinite strike from 13 June. A letter informing about this decision of the association was submitted to Girish Mahajan and the dean of Medical College, Shubham added.
Shubham said that compared to Maharashtra, the intern doctors in other States were paid very well. He informed that the payment is Rs 17900 in Uttar Pradesh, Rs 19975 in Karnataka, Rs 21000 in West Bengal, Rs 20000 in Kerala, Rs 20,000 in Assam, Rs 20,000 in Chhattisgarh, Rs 20,000 in Orissa, Rs 15000 in Bihar, Rs 13000 in Andhra Pradesh, Rs 13000 in Telangana, Rs 11800 in Haryana, Rs 9000 in Punjab and Rs 10700 in Gujarat.