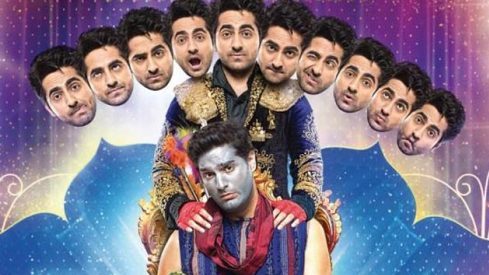 Star Cast: Ayushmann Khurana, Kunal Roy Kapur
Director: Rohan Sippy
Producer: Bhushan Kumar, Krishan Kumar, Ramesh Sippy, Roopa de Choudhury,
Music Director: Falak Shabir, Mikey McCleary, Rashid Khan and others
 Genre: Romantic Comedy
Nautanki Saala is an official remake of the French film Apres Vous. Crafted on a small budget, directed by Rohan Sippy it has Ayushmann Khurrana and Kunaal Roy Kapur cast as the lead and the film has a lot to give and take ,and why I say that read below:
Plot: Its script is built on around a play called Raavanleela which is being directed and acted in by Ram Parmar aka RP (Ayushmann Khurrana). Playing none other than Raavan in the Broadway-like production which is a far cry from what the actual theatre productions in Mumbai look like, he's finding it difficult to juggle work and his live-in girlfriend Chitra (Gaelyn Mendonca). Amidst all this enters Mandar Lele (Kunaal Roy Kapur), a suicidal heartbroken lover who, let's say, hasn't taken his separation from Nandini (Pooja Salvi) in good spirits. RP saves Mandar's life, and in the bargain, gets this strange unjustified urge to unite him with Nandini again. And then the inevitable: he himself falls for her, and thus begins the turmoil of a Raavan trying to woo the Sita away from an oblivious Ram
The man to see in the film is Vicky Donor debutant "Ayushman Khurana". His composed reactions and his ability to seamlessly convey comic, romantic as well as touching emotions give us some positives to take home. Kunaal Roy Kapur plays his part earnestly too, and manages to give the cold script some much needed fervor. Gaelyn Mendonca, as the supportive Chitra and Pooja Salvi, as the distressed Nandini, both do justice to their roles, but fail to leave a lasting impact. The problems that exist with the original will remain in its remake, which is basically that the story doesn't really add up. And yet if you account for the number of laughs, measure its main performances, ogle at the smart photography, tap your feet to the soundtrack, you realise this picture is far better than its plot. So in short what you get you give by the END.
Music is great songs like Saadi gali , dhak dhak & dil mera mera toota are quite entertaining, Ayushman again proves himself to be a good actor with a great voice.
Review: Anytime better movie then Himmatwala and Chashme Baddoor and a nice blend of retro Bollywood sounds and original tracks.

Yash Raj Trivedi