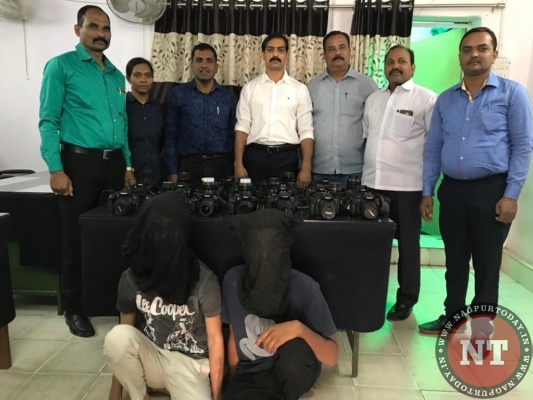 Nagpur: A team of Crime Branch on Wednesday arrested two teenage boys for fraudulent activities. The modus operandi of the two accused teenagers was they hired costly cameras and never returned them to their owners. Total 17 cameras worth Rs 8.40 lakh were recovered from possession of the two accused who have been identified as Vaibhav Vinod Harshe (19), a resident of Shanti Nagar and Akshay Leeladhar Wanjari (19), a resident of Bele Nagar, Kalamna.
Addressing media persons, Crime Branch Police Inspector Jagvendrasingh Rajput said that Piyush Naresh Shahu (20), a resident of Bajeriya, had posted an advertisement on OLX stating that Canon 1300D camera was available on rent. The accused Vaibhav Harshe contacted Piyush on October 26 and took the camera on rent for ten days. He promised Piyush that he would pay him Rs 300 per day as rent for the camera. After ten days, Piyush contacted Vaibhav but the latter's cell phone was switched off. Piyush then went to Vaibhav's house and saw 10-15 persons standing in front of his house asking him to return their cameras. Realising he and other gullible citizens have been cheated by the two accused, Piyush registered a case with Tehsil Police.
Cops booked the two accused Vaibhav Harshe and Akshay Wanjari under Sections 420, 34 of the IPC and started a probe. Similarly, a team of Unit III of Crime Branch also started simultaneous investigation and nabbed Vaibhav and Akshay. Cops seized 17 cameras worth Rs 8.40 lakh which they had mortgaged with some persons.
The action was carried out by PI Jagvendra Rajput, API Dnyaneshwar Bhedodkar, WPSI Mangala Mokase, constables Shatrughna Kadu, Anil Dubey, Arun Dharme, NPC Shyam Kadu, sepoys Milind nasne, Sharif Sheikh, Harish Bawne under the guidance of Commissioner of Police Dr Bhushankumar Upadhyay, Joint CP Ravindra Kadam and Additional CP (Crime) B G Gaikar.