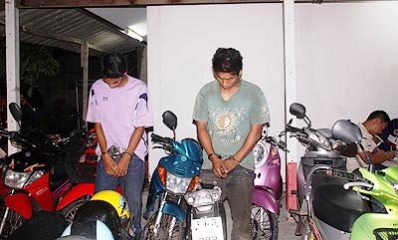 Nagpur News: A dream to have their own bikes took three teenagers to steal the bikes. The three youths arrested by the Dhantoli police during patrolling on Monday confessed that they wanted to have their own bike and hence took to stealing.
Among the trio, Shubham Wankhede is an engineering student while other is an eleventh standard student. The third one is tenth failed. They were handed over to Imambada police where cases against them are registered.
However, they were later handed over to Sakkaradara police station as no cases were registered against them at Imambada police station. On investigation, it was learnt that the trio has four cases of vehicle thefts against them at Sakkardara police station.
All three hailing from a middle class family, had stolen four bikes from parking area in the last two months. Police said they had stolen the bikes from Chotta Tajbagh, two from Dattatreya Nagar and the last one from Bollywood centre point.
Cops informed that the boys would target the bikes having no handle locks.
"They don't have any modus operandi. Never had they used any duplicate keys. Once at Chotta Tajbagh they found a bike of their interest having no handle locks kept in the parking. They flee with it and continued stealing others," said police.
Police said that their parents told them that since their children were too young to drive a bike, they didn't buy a bike for them. "The lure to have a bike of their own might have forced them to crime," said police.
All four bikes were recovered by police. Cops said the boys had kept the bikes in their flats parking area. Cops are still searching any other offences against them.