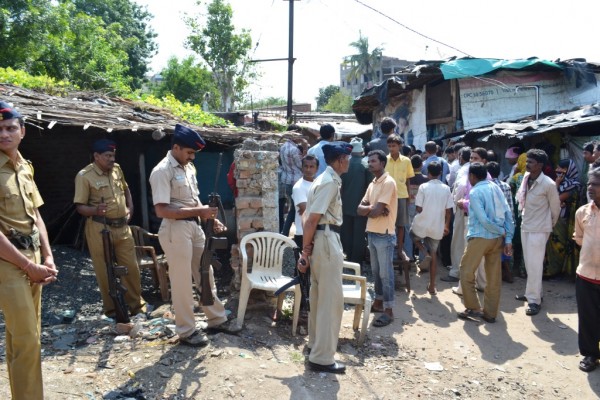 Nagpur News : Tension continued at Vasantrao Naik slums on Tuesday after two youths were interuppted and thrashed by Shaik Akram alias Bhuru's relatives near Bole Petrol pump in the evening. It's just two weeks that Vasantrao naik slums dwellers had started leaving peacefully and secured after the cops had arrested majority of the goons from the area
The life threatening warnings had once again sent shockwaves among the residents. They immediately approached to police chowky installed after the horrendous incident of lying Shaikh Iqbal on October 10. The chowky was installed fearing tension in the locality after the lynching case
The next day on being informed by the residents, police exhumed a naked murdered body of Rohit Jain was exhumed from the slums.Being held responsible for neglecting the goon's illegal activities in the slums, Director general of police Sanjeev Dayal had suspended the senior police inspector Prakash Jadhav and six others including the second PI. Police have already arrested Akram, Shaikh Akbar and Kamlesh Gupta.
However, the same lethargic attitude among cops over the issue led them to lose their patience, sparking tension in the area.
Around 9 pm, Jitendra and Kailash Verma were passing through the Bole petrol pump square when Shaikh Akram alias Bhuru's relatives stopped them and threatened them. "Threatening them to file more complaints to the police, he thrashed them publicly and fled away," said a resident.
Later, cops's delay in filing a police complaint has enraged the residents who again created drama in the area as well as in front of Sitabuldi police station. The residents claimed that police sent Verma brothers back and forth from police chowky to Sitabuldi police station to file a police complaint.
"Initially, the victims approached the cops deployed at the police chowky. They sent them to Sitabuldi police station to file a complaint. However, the Sitabuldi police again sent them back to police chowky who then refused to take the complaint," said a resident. He claimed that still the antisocial elements are in collusion with some cops and hence Bhuru's relatives dared to harass them.
Earlier also, the slum dwellers had blamed Sitabuldi police turning deaf ear to the complaint loged by them against these goons.
There was tension again on Wednesday morning when the Sitabuldi police had gone to arrest few of the residents in Shaikh Iqbal's murder case. The residents misbehaved with the cops and abused them.
Later, hundreds of slum dwellers marched to CP office to give a written petition for the police inaction and over their security issue. Sensing trouble, cops prevented the mob from entering the gate and allowed only few of them to meet Joint CP Sanjay Saxena They claimed that they lack security and wants more police protection.