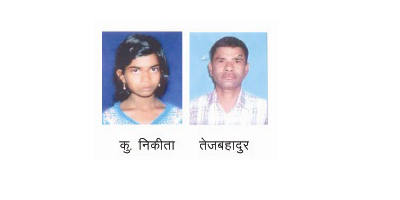 Nagpur News: Two missing reports were filed in different areas of Nagpur on February 26, 2013. In the first case, a 17-year-old girl Nikita Chandrakant Rakhunde, a resident of Babasaheb Nagar, behind Rakhunde Society Mandir, went missing from her home on February 26, 2013. She is wheatish in colour and 5.1" in height. He has knowledge of Marathi and Hindi language.
In another case, missing report of a 40-year-old man Tegbahadur Jagbeer Chetri (40), a resident of Darshan Colony, DRO Complex, was registered in Nandavan Police Station after he went missing from his residence on February 26, 2013. He went out for some work but never came back home. He has knowledge of Asaami, Nepali and Hindi language. He is fair and 5.7" in height. He was wearing a black and blue colour T-shirt.
Police appealed people to co-operate and inform the police if they get information of these missing people.