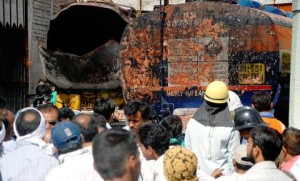 Nagpur News.
The scorching heat has begun to show its deadly effect in Nagpur as the two oil tankers stationed at kerosene depot in Hivari Nagar suddenly picked up fire on Friday while the kerosene was being flowed from one tanker to another. It soon engulfed into flames leading to a blast leaving one dead and three severely burnt. The deceased Uttam Rahangdale was the driver of one of the oil tankers.
Chief Fire Officer Rajendra Uchake told Nagpur Today that four fire brigades were pumped into service, which reached the spot in half an hour and contained the fire. But by the time the rescue operation began, the damage was reportedly done.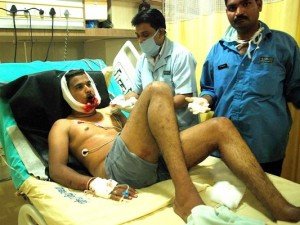 He speculated that the engine of one of the tankers might have been kept on while the kerosene was being transferred from one tanker to another. This could have triggered the fire leading to inferno, he viewed.
The residents complained that the depot is illegally being operated in the residential area and often kerosene is being transferred to the tankers which mound constant threat upon them. They also alleged that the depot also did not have NOC from fire department.
The people in the area reportedly heard four blast sounds and found flames emerging from the area. The condition of the three injured was said to be critical.