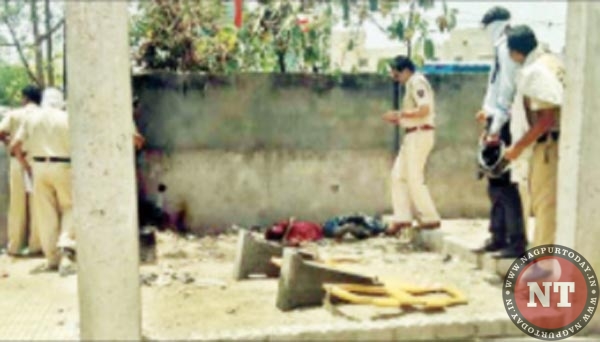 Nagpur: Sensation prevailed in the city on Friday as two murders were reported in less than 12 hours raising serious question over the crime situation in Nagpur. Even as the concern over the murder of a man under Nandanvan police station was to die down, yet another murder in Ramteke Nagar under Ajni police station tensed the atmosphere. The man, aged 35 was murdered by sharp edged weapon. The deceased could not be identified till the time of filing the report.
Police station Incharge at Ajni Police Station Sankhe informed that looking at the condition of the body it was assumed that the man could have been murdered few hours back. The deceased was found be wearing red t-shirt. Sankhe said that the police would soon establish identity of the person as well as the motive behind the murder.
On the other hand, DCP Nilesh Dharne stated that it was yet to be ascertained whether it was murder or accident. Police have also recovered the boulders near the dead body.
Earlier in Nandanvan, a man along with his accomplice killed another man, over the suspicion of his illicit relationship with his wife. Akash Deshbhratar, resident of Padole Nagar galli no 2 near Angulimaal Baudh Vihar was suspicious of her wife having alleged affair with one of his relative Rahul Ravi Pawaskar, resident of Bharatwada in Pardi. This would led to routine tiff between the couple. Later he hatched a plan to kill his wife's alleged paramour Rahul and took his friend Akash Mandal into confidence to commit the crime. Later, Akash called Rahul at his house and attacked her with sword and knives, killing her on the spot.
Upon the complaint of Akash's wife Khushboo, Nandanvan police have registered case against both the accused under section 302, 120 (B) and 34, IPC.