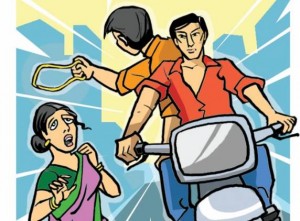 Nagpur News.
The crime rate in the second capital doesn't seem to stop. On Tuesday, two more cases of robbery were registered under Lakadganj and Dhantoli police stations.
In the first incidence, an elderly woman was relieved of her gold chain worth Rs 30,000 near MSEDCL office, Wardhaman Nagar. The elderly woman Leelabai Giridharilal Kochar (65) was riding pillion with Deep Mehta when two unknown youths came behind on black Access moped and snatched away the gold chain worn by Leelabai.
The chain-snatcher zoomed away from the spot before anyone could raise an alarm. On the complaint of Leelabai's son Ghanshyam Kochar (36), a resident of Plot No. 405, Sambhavnath Apartment, Wardhaman Nagar, Lakadganj police registered a case under Sections 392 and 34 of the IPC.
In the second case, four persons robbed a 18-year-old youth in Dhantoli area. The complainant Karan Omprakash Yadav (18), a resident of Plot No. 85, NIT layout, Ajni Square, was on his way back home with his friend after attending tuition when four unidentified youths stopped him in front of Dr Ambedkar College and forcefully snatched his gold chain worth Rs 35,000. Before Karan could fight back, the robbers fled away from the scene. Two of the four accused have been identified as Salman Sufi and Rohit Rathod.
Dhantoli police registered a case under Sections 323, 392, and 34 of the IPC.