Two-day workshop on 'Heat Action Plan' begins in city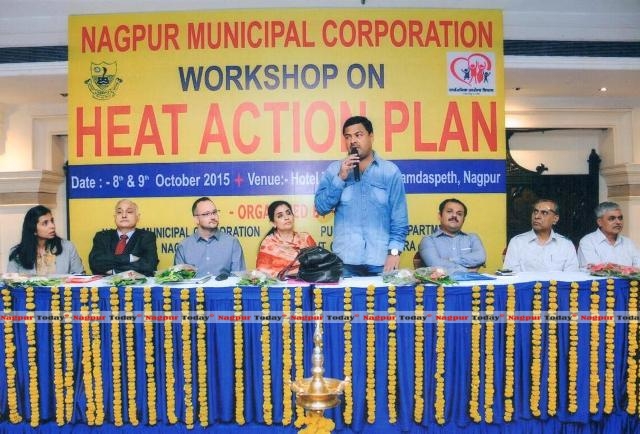 Nagpur: A two-day workshop on the topic 'Heat Action Plan' is being organized jointly by Nagpur Municipal Corporation and Public Health Department (Nagpur Division). The workshop, being held at Hotel Tuli Imperial, Ramdaspeth, was inaugurated by Principal Secretary of Maharashtra Government's Public Health Department Sujata Sounik on Thursday morning.
Other prominent dignitaries seated on the dais include Chairman of NMC's Medical Services and Health Committee Devendra Meher, Municipal Commissioner Shravan Hardikar, Director General of India Meteorological Department Dr Laxmansingh Rathore, Director of Public Health Department (Mumbai) Dr Satish Pawar, NDMA Member Dr Muzaffar Ahmed, NRDC's Anjali Jaiswal and Washington University's Dr Jeremy Heiss.
The Chairman Devendra Meher in his inaugural speech said that the temperature of Nagpur reaches 45-46 degree Celsius during peak summer. Considering this fact, the two-day workshop will certainly create awareness among citizens on Heat Action Plan, hoped Meher.
In the first session of the workshop, a presentation on the topic 'Sharing International Best Practices' was done by Anjali Jaiwal of Natural Resources Development Council (NRDC), United States. The Principal Secretary Sujata Sounik, along with Anjali Jaiswal, shared valuable information in the form of interactive discussion. Thereafter, Washington University's Dr Jeremy Heiss gave presentation on 'Linking climate and health.' Gandhinagar, Gujarat's Dr Parthasarathi Ganguly assisted him.
In the next session, an articulate presentation on 'Early warning system and forecasting' was done by IMD Director General Dr Laxmansingh Rathore, S C Bhan and Dr P K Nandanwar. Later, VNIT's Dr Rajashree Kothalkar gave presentation on 'Urban Heat Island Study.'
In the open discussion session, presided over by Sujata Sounik, the dignitaries present at the workshop exchanged their views.
The day-one of the workshop was also attended by Deputy Commissioner Sanjay Kakde, Joint Director Health (Mumbai) Dr Jotkar, NMC Deputy Director (Health) Dr Milind Ganvir, Odisha's Dr Lipika Nanda and other Government officials.