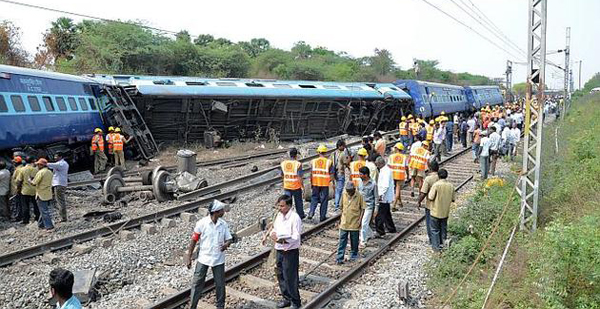 Nagpur News: The passengers of Howrah-Mumbai had a narrow escape and emerged unscathed, too, when the coaches they were travelling in jumped the rails and derailed between Dongarpur and a little known Paniyajob stations at about 2 pm. The spot of derailment is 80 kilometers away from Gondia. The train was to reach at Gondia at about 12 noon but reached at 3.15 pm late by almost one and a half hour.
The air-conditioned coaches A1 and A2 of Howrah-Mumbai Mail derailed. However, no passenger was hurt as a result of derailment. The Railway authorities separated the derailed coaches from the train by cutting their joints. The A1 and A2 passengers were accommodated in B1 and B2 A/c coaches and the train started its onward journey. The train is likely to reach Nagpur at about 5.30 pm.
The cause of derailment of the two A/c coaches could not be ascertained immediately as the railway authorities were still investigating the derailment.