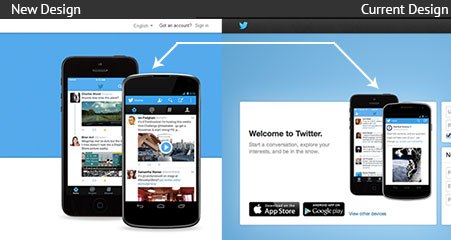 In this fast paced digital age, nothing can carry without adding innovation to its existence. Even the world famed micro blogging site Twitter could not avoid the regular and compulsory R & D to lead the game in the digital space.
And the latest from the site came in its redesigned avatar that resembles more like Android and iOS mobile apps.
Twitter has confirmed adorning the new look soon. Among the new tools added for the convenience include white navigation bar, inspired by the site's mobile apps.
According to Cnet, the new look would have a left-hand side bar, displaying a user's header photo in the upper left-hand corner, along with an improvised `Who to Follow` and `Trends` sections listed underneath. The latest design also lets users to add an accent color to their profile.
The company stated that 76 percent of its users are accessing Twitter from their mobile devices each month, which indicates that the mobile interface has become a familiar and preferred option of its more than 230 million strong user base.