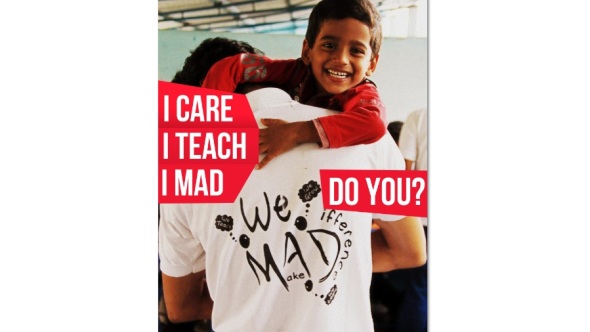 The youth, it is said, is the most powerful asset that a country can have. While enjoying their youth when they are in the most energetic and enthusiastic phase of life, can the youngsters also do something that makes them feel they are contributing to the society. Perhaps, they can. 
MAKE A DIFFERENCE (MAD), a youth voluntary organization, opens its doors to everyone above the age of 15 to join in. A non-profit organization, MAD works for 3,000 children at risk across 23 cities in India. It provides a platform that empowers youth to become leaders who make positive social impact and create self-sustaining communities. It aims at bridging inequality in the society through education. MAD was first started in Cochin when the youngsters in the city noticed a disparity in the community around them.
Nagpur chapter of MAD has been active since 2008 and is presently teaching English to about 250 kids from 5 shelter homes with the help of 120 active volunteers. These volunteers have centres located in various areas such as Sadar, Jaripatka, Itwari, Buldi and Godhni.
Those wishing to join must register themselves on the organisation's website www.makeadiff.in or send an SMS with IMAD, <name>, Nagpur in the body to 09220092200. For details contact Chaitnaya Pathak at 9766832399 or Chetan Gughare at 8446556414.