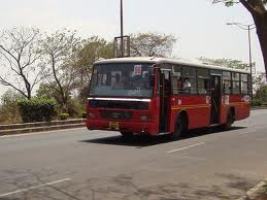 Nagpur News:
Turning a deaf ear to the regular complaint of overcrowding star buses has caused to the death of a senior citizen. On Thursday afternoon, a 60-year-old woman came under the rear wheels of a Starbus after she fell down while trying to get into the bus from SRPF gate no.1 near Shivangaon.
Gulabbai Raut, a resident of Warora in Chandrapur, had come to Nagpur on Wednesday at her grandson, Nitin's house at Isasani square in Shivangaon. On Thursday afternoon, she adieu to Nitin and was trying to get into the bus that was already crowded.
Police said that the there was crowd at the entrance and Rau was also one among them. While pushing each other to get into the bus, Raut lost balance and fell down. Neither the bus driver nor the conductor noticed Raut.
"The bus driver Anup Jadhav suddenly started the bus giving no time to Raut to get up. She was crushed to death under the rear wheels," said police.
Sonegaon police has arrested Jadhav, 25, a resident of Manewada road. Police said that they are further enquiring against the bus conductor, who also didn't notice the senior citizen and signalled Jadhav to start the bus.