A gang of truck owners, drivers, and their accomplices attack "Dhaba" runner for asking to remove trucks standing in front of his "Dhaba". The fearless gang members surround relatives in front of Jaripatka Police Station and threaten to kill them if a complaint is lodged. The criminal gang warns many relatives of the victim to begin countdown for death if the complaint is not withdrawn.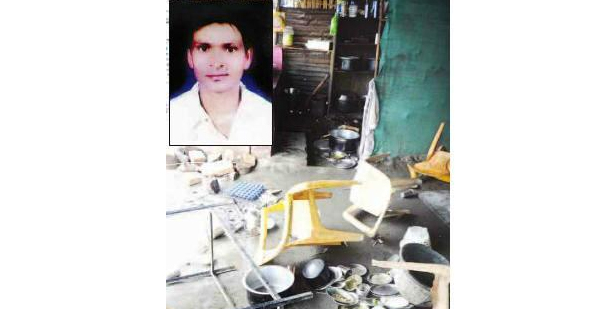 Nagpur News:
A roadside "Dhaba" owner was seriously injured when some truckers attacked him with sharp weapons over a petty issue. The same truckers, who were fed and provided a much needed rest by him for years together, tried to kill him. Jaripatka police have arrested truck driver JagdishPrasad Tiwari (25), resident of Khairi, Kamptee Road, Simarjit Singh Paramjit Singh Wahe (22), resident of BH Tower, Kamptee Road, and Gagandip Singh Gurcharan Singh Raina (24), resident of Misal Layout. The accused Kamla Seth, his two sons, and other accomplices are absconding. Trucks of Kamla Seth are generally stationed at Kapil Nagar Square, sources said.
According to reports, the Dhaba owner, Altaf Khan Aslam Khan (38), resident of Ramai Nagar, Nari Road, has his Dhaba at Kapil Nagar Square. On the incident day, after observing many trucks standing in front of his Dhaba (The drivers were enjoying food and rest at another Dhaba), Altaf Khan asked them to remove their trucks to other place in order to facilitate customers. However, the truckers with their 15-16 accomplices, instead of removing their trucks, tried to "remove" Altaf Khan from this world. They attacked him. One of the truckers, Jagdish Prasad Tiwari roared and warned Altaf "From today your Dhaba will not exist."  Then Jagdish phoned the key accused Kamla Seth's son and his close friend Sunny. In return, Sunny phoned his brother Aman, friends Simarjit Singh Wahe, Gagandip Singh Raina, and his father Kamla Seth. All the accused along with other 15 accomplices reached the spot in three cars. As soon as they all reached the Dhaba of Altaf Khan, Kamla Seth, truck driver Jagdish Prasad Tiwari, Sunny and Aman, and their accomplices attacked Altaf with lethal weapons. The attack caused a panic and Mistry Raju, working in Altaf's Dhaba, fled the spot to save himself from the attack
Altaf's brotherMohsin Khan and nephew Imran Shahid Hashmi tried to calm down the attackers but were warned by them of dire consequence if they meddled in the scuffle. After injuring Altaf, the entire gang escaped from the spot. Altaf was immediately rushed to Mayo Hospital. Altaf was administered several stitches on his head. The attackers not only injured Altaf but also damaged tables and chairs and took away Rs 3000 kept at cash drawer. Altaf's brother Mohsin Khan and nephew Imran Shahid Hashmi reached Jaripatka Police Station. However, before they could enter the Police Station , both were surrounded by the gang members and doled out threats to kill them if they lodged complaints against the gang.
The victim Altaf said, the police did not visit the spot of attack even after 18 hours. The Jaripatka PSI Parchake booked the attackers by registering offences against them and arrested truck driver JagdishPrasad Tiwari, Simarjit Singh Paramjit Singh Wahe and Gagandip Singh Gurcharan Singh Raina The key accused Kamla Seth, his two sons, and other accomplices are absconding. Police have launched a hunt to arrest them.
COUNTDOWN: The hard-core criminals Kamla Seth and his accomplices have threatened the relatives of seriously injured Altaf to begin countdown for death unless they withdraw complaints lodged at Jaripatka Police Station. The gang warned with Altaf with dreadful words: "This time you got saved. But next time you will be killed." The residents of the area informed a shocking fact that the car, Kamla Seth's son Sunny purchased, was running without number plate since past six months. Sources said, Sunny drives the car in great speed in the area, and resorts to thrashing if anybody raises objections. He dares and indulges in "Dadagiri" in the area in the name of his father Kamla Seth        . Sunny has a big list of various crimes but police hesitate to take action against him for reasons police themselves know.
POLICE TURN BLIND TOWARDS ILLEGAL PARKING OF TRUCKS: The role of traffic police at Kapil Nagar Square could be under scanner. The traffic policemen always found enjoying tea  and other eatables at nearby tea and eatable shops instead of policing on the busy square. The several trucks are illegally stationed in front of them but they hardly move to correct the wrong despite several protests by the residents of the area. The reason appears obvious. A woman was crushed to death by a speeding truck few days ago. Despite the incident no higher official of police care to to take strict action against the "criminal" truck owners. And why would they take action? The "Haphta" word has many powers.