NMC King, his "clowns' turning a Nelson's eye towards Kishore Rai's "No Property Tax Tricks"

The chief of Rai Group is not paying Property Tax and Water Tax in crores in connivance with King Shyam Wardhane, and his "near and dear one" officials for years together thus putting the cash-starved NMC at a staggering loss.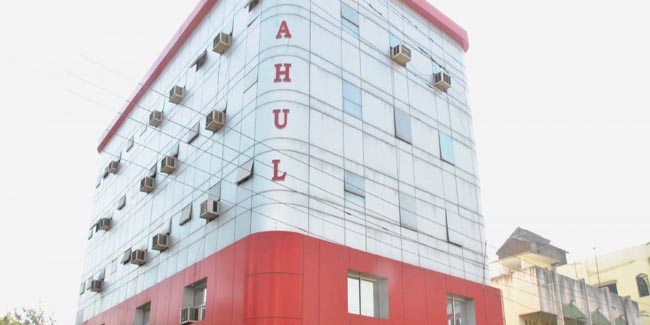 Nagpur News: After the exposure of scams, scandals, corruptions, fishy deals over various taxes, the Nagpur Municipal Corporation (NMC) Commissioner Shyam Wardhane's whimsical or erratic or comical or weird actions of shouting, turning tables and the likes have been beyond understanding of any sane person.
The NMC Commissioner himself never considered seriousness of assessment, taxation and the subsequent recovery of various taxes like Property Tax, Water Tax, LBT or Octroi, and other crucial taxes. The day Wardhane assumed charge as NMC Commissioner, everybody, including the Mayor, is on the edge due to his insensible style of working. Wardhane, leave alone a lower rung employee, even the Ruling Party and Opposition Corporators as well, see the red whenever they question the top NMC boss over development issues. Wardhane, armed with MCM Act which was thrust upon civic Corporations and Councils across the Maharashtra, has become an alien for all concerned with NMC, except, of course, his group of insiders or "near and dear ones". The King, Wardhane, and his close-aides, are ruling the NMC at the cost of other honest officials and employees.
Had Shyam Wardhane considered collection of Property Tax and Water Tax seriously, the collection would have turned an alternate or even more beneficial option for the good of NMC itself and for development works in the Orange City. However, to achieve the goal needs vision. And the vision needs eyes and will power. But both eyes and will power are miles away for the "power blinded" Wardhane and his heavily pocketed "kith and kin."
A fresh example of a fishy Property Tax episode has come to the fore. The episode deals with Rai Group chief Kishore Rai who constructed a 7-story Rajat Heights flat scheme near Hotel Heavens on Koradi Road. The construction of the flat-cum-shop scheme began in 2006 and abruptly completed in 2009. The builder Kishore Rai has not paid Property Tax since 2006. However, at that land the builder has constructed not only one but two 7storied flat schemes. The first building facing Koradi Road consists of 128 flats and 140 shops and the second building has 68 apartments. All the flats and shops have been sold.
However, if one were to calculate the Property Tax  even at the rate of Rs 500 from 192 flats and 140 shops since past 7 years, the amount stands at Rs. 11, 62,000 apart from Water Tax amount Rs. 1,74,000 for having no water connections. This is a staggering loss to NMC. Moreover, for those having no water connection , an order has been issued to recover Water Tax with 40 per cent penalty instead of 15 per cent from this year.
Had builder Kishore Rai                 installed water connections in 2009 itself the NMC would have collected at least Rs 2 lakh as Water Tax and till 2013, an amount of Rs 5.50 lakh could have been added to the NMC coffers. But the loss continues till today. Courtesy: The King and his subjects. (Shyam Wardhane and his accomplices). When the First Citizen Mayor Anil Sole noticed the major flaw and loss to NMC, he hesitatingly assured corrective steps 4 months ago. However, no step was initiated in this regard as the any Mayor including the present Mayor may be finding himself helpless in front of the King Wardhane. And the King is "Messiah" and he showers mercy when it comes to dealing with bigwigs.
The NMC King and his "clowns" have given so much freedom to the builder Kishore Rai has already constructed six flat-cum-shop schemes within city limits apart from the contentious Rajat Height schemes on Koradi Road. And the same operandi or fishy deals have been indulged in resulting in continued loss to NMC in crores. At present, the chief of Rai Group Kishore Rai is going full swing by constructing newer and newer schemes like in Sitabuldi, Mominpura and Chinch Bhuvan to name a few.
However, Kishore Rai is an iceberg. The record shows hundreds of such buildings, bungalows, houses, vacant flats whose even assessments have not been carried out, of course, by NMC Administration. Who is responsible for the dismal state of affairs is not the question. But the responsibility must be taken by the chief i.e. the King and his "clowns." (Wardhane and his close aides).
The assessment, taxation and the subsequent recovery must be carried on war-footing. And waging a war needs courage, will power, and necessary weapons. And those who lack these qualities, instead of shouting from roof tops, should quit the "powerful" chair. This is the need of the hour. The Maharashtra Government also cheats Nagpur by posting such IAS officers who are on the verge of retirement or kicked out by the other departments.