The traffic policeman was chasing the truck, and, succeeded also. But the thief-driver attacked him and left the policeman's face bloody with a broken nose.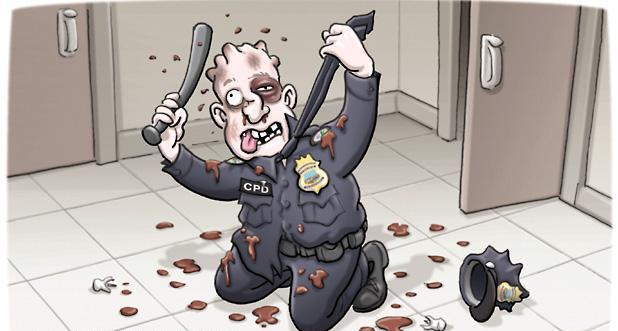 Nagpur News:
A chase by a police constable proved him dear, also created a sensation in Kalamna area when the face of the policeman turned bloody, courtesy a truck thief.
According to police, the traffic policeman Sandip Gupta and Praveen Kumar Pande, the owner of the truck, were on a search operation to arrest a truck thief in the Kalamna area in Nagpur. However, when both policemen spotted the stolen truck and its driver, Sandip chased and stopped the truck. He asked the thief-driver to come out from the truck. But, Sandip was not expecting a situation the thief-drive would create. The thief descended from the truck and suddenly attacked Sandip and left him with a broken nose with a forceful hit. The fisticuff between the police constable and the thief triggered a curiosity and sensation as well among people who gathered at the spot and became spectators to a rare event. Finally, police overpowered the thief-driver and registered an offence against him. Now, the thief is cooling his heels for his hot reaction.
The truck owner, Praveen Kumar Pande (26), a resident of Telephone Exchange Square, parked his 10-wheeler truck (CG-04/JA 615) in front of a hotel on Old Pardi Road and went to have a cup of hot tea. The situation, too, turned hot for Praveen when he went back to his truck and was on the verge of starting his truck. Suddenly, the accused thief, one Sachin Gangadhar Telne (25), a resident of Kuhi, pushed Praveen with a great force and snatched keys of the truck from Praveen. Sachin, armed with the keys, fled the spot along with the truck.
Meanwhile, Praveen lodged a complaint with the police who in turn launched an intense search for the stolen truck and the thief, too. The day light theft of the truck created a sensation of a sort. However, the chasing policeman lost some blood, and a "respected position" in the eyes of the citizens.