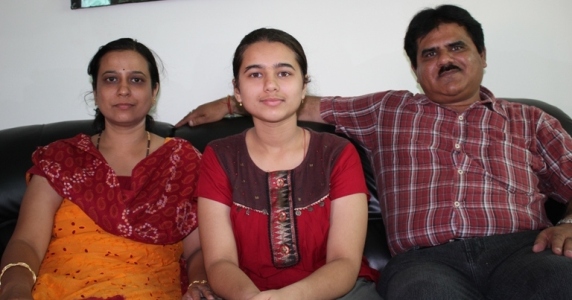 Nagpur News:
Nagpur city witnessed a sort of victory in the battle front as far as SSC examination result was concerned. Nagpur girl Rakhi Bhagwate of Prerna of Convent School topped the exam in the entire Maharashtra in Science Stream. Another city girl, Apoorva Kelkar of Somalwar HIgh School bagged the second spot. Another Orange City girl Priyanka Joshi of VT Convent School, too, scored identical 98.18 per cent marks to emerge second topper. She spoke with Nagpur Today on some finer points of her journey to the grand success.
Nagpur Today: Tell us first, how do you feel at the moment of glory?
Priyanka: I am immensely happy! Efforts I took bore the fruits in the brilliant shapes. I am totally speechless.
Nagpur Today: Which were your favourite subjects?
Priyanka: Certainly Science and Biology. The reason being that these subjects are linked with lives of living beings, so I enjoy studying them.
Nagpur Today: What was your pattern of study daily or other strategy?
Priyanka: I cannot specify it, but every day I had books in my hands on certain times with which I used to roam about in my house but sights on contents of the books. Rest, guidance of teachers has helped me a lot.
Nagpur Today: What motto did you believe in your life that reached you to the present magnificent achievement?
Priyanka: Practice, practice, and practice makes a man perfect! Just keep studying regularly, and remember that time management is the key. One doesn't need to be a bookworm.
Nagpur Today: What extracurricular activities do you like?
Priyanka: I love drawing. I attained second position in "Science Talk on Nuclear Energy". Participation in such competitions is also one of my spheres of interests.
Nagpur Today: To whom do you give the credits of your success?
Priyanka: Obviously to my parents and my grandparents as well. My mother was always there for me. Whenever, I used to get bored while studying, her lovely words of encouragement never let me leave my interest for studies. My dad used to solve my maths problems anytime I approached him.
Nagpur Today: What are your plans for future?
Priyanka: I intend to become a Gynecologist. Medical is a noble profession. Women doctors are less in number I believe, so I wish to come up as a successful one. I even intend to serve in rural areas if I get such opportunity. For 11th and 12th I shall opt for fisheries.
Her proud parents — Abhijeet and Swati Joshi — were incredibly happy as well. Her mother, who is a housewife versed that she was always behind her as far as studies are concerned, and accompanied her. On the other hand, her father, who is an Engineer, and in the construction business as, informed that he mostly used to stay out of town. In spite of that she used to call him up and clear her queries.