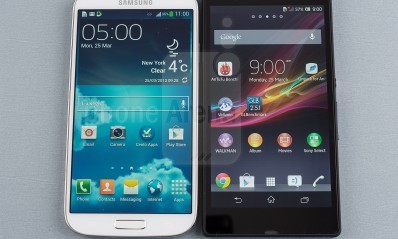 When talking about comparison of the happening and new arrival Samsung Galaxy S4, and the all new Sony Xperia ZR, both stand as tough competitors for each other. To be able to conclude which one outshines the other is no where easy.
S4 having officially announced its 5-inch, water and dust resistant Samsung Galaxy S4 Active, comes with an 8MP camera that can take photos underwater. This peculiar feature has attracted the buyer's interest immensely. It can remain functional even after remaining submerged in the water for half an hour.
It comes with e ''Aqua Mode'' option in the camera that increases the visual quality inside water. The phone is available in blue, gray, and orange colors that give it a very youthful look. For connectivity options it has 2G, 3G, 4G, Wi-Fi, Bluetooth 4.0, NFC, microUSB 2.0 and Infrared. It comes with a 2,600mAh battery.
Where on the other hand, Sony is no where lacking in terms of public demand. It has launched Xperia ZR with 8MP camera which has ability to take pictures even while it remains submerged in 1.5 meters of fresh water for up to 30 minutes and the user can shoot even from a locked screen.
Samsung Galaxy S4 Active is powered by a 1.9GHz quad-core processor and runs Android 4.2.2 (Jelly Bean). It has a 5-inch display and LCD TFT screen with esolution of 1080P. The phone has 16GB of internal storage (expandable using microSD slot).
Sony Xperia ZR on the other hand comes with 4.6" HD Reality Display with Mobile BRAVIA Engine 2 for sharp and bright viewing experience. It has 13 MP fast capture camera with HDR video and "Exmor RS for mobile" and is suitable for capturing perfect photos and videos in any conditions as per company's claims.
The company claims that it is dust-resistant and is IP55 and IP58 compliant, so one can keep it submerged in 1.5 meters of fresh water for up to 30 minutes. The user can shoot even from a locked screen.
So both these wonderful pieces of technology have their own perks. A purchase of either of the two won't be regretted. But the one that shall serves as the popular choice shall take the lead.