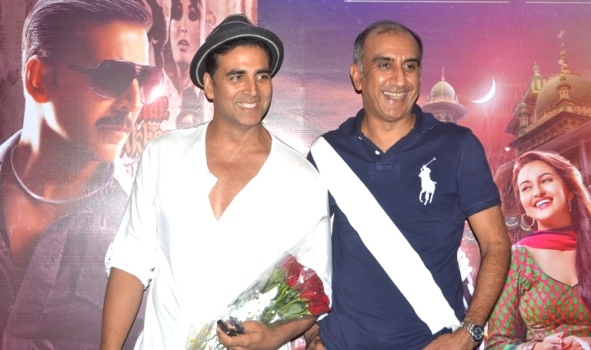 Nagpur News.
Rainy Tuesday in Nagpur saw some splatters and showers from Bollywood side too. As the new don of Bollywood Akki aka Akshay Kumar landed in the city along with the director of his soon to be released movie  'Once Upon a time in Mumbai Dobaara' Milan Lutharia, hordes of his fans went crazy enough to catch a glimpse of their favorite star.
Akki fans waited desperately outside a city hotel in Ramdaspeth, braving the changing weather temperaments of Nagpur. As the star's car stopped at the hotel's entrance the crowd surrounded his vehicle. The star was literally mobbed but all happy to discover that the craze he had left during his last visit to Nagpur still remained intact. The people kept piling up, vehicles stopped and the commuters took the entire road to block.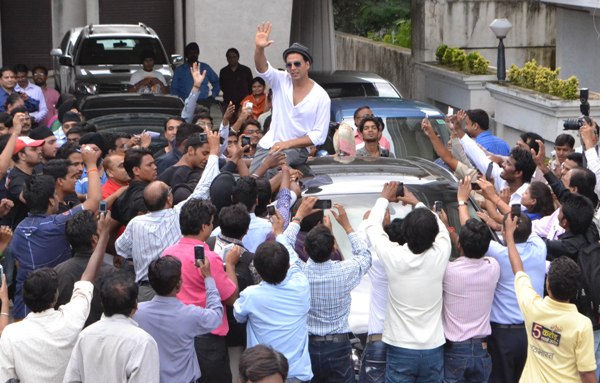 Both the actor and director were here to attend a press conference to promote their movie.
Being a sequel to Imraan Hashmi and Ajay Devgan starrer 'Once Upon A Time In Mumbai', OUATIMD is an action packed romantic underworld thriller, which is an obvious war between the hero aka Imran Khan and the villain aka Akshay Kumar, over a pretty girl Sonakshi Sinha. The highlight of the movie shall be the 'Romantic Villain' who even after committing numerous sins, finally falls in love with the charming lady.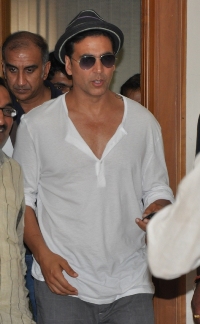 Akki popped up, "This is no ordinary gangster film. This film is loaded with drama and romance. Milan quoted that he did not want this sequel to look like the  repetition of earlier movie. Hence an action movie filled with emphasis on romance was an obvious choice of genre. He even told that he might love to do rare commercial cinemas, but action and tragedy are his spaces of genre, he concluded.
The sequel shall nowhere be the same as the previous one, except for the fact that this gangster flick, inspite of being an action one that is assumed to be full of foul and cuss words, is a family movie. Milan said, "this movie is all about 'hasna, darna aur rulana.'  As a director, I've felt a romantic triangle for the first time', added.
Further when asked about the reason for choosing this villain role, Akshay told that the decision was risky, but he believes in variety and taking risks. Hence he is happy to be a part of this one. Plus he told that villain has most fun in a movie.
He even praised the intelligence and choice of 'Today's Audience', considering them to be smart and choosy. The discussions about this 65 crore movie's revenue target of 100 crores were prominent. On this, Akki commented that a movie should not just be judged on its figurative targets, as investment in that movie may vary. Entertainment should come up as a motivator, he said. Akshay Kumar's Marathi movie as well was one of the interesting topics of discussion. He said he is uniquely related to Marathi Cinemas as he finds it to be uniquely intelligent.
The dialogues of this movies are expected to stick on tongues forever, hence Akki quoted one of them-'Agar mai hero ban gaya toh meri pehchan bura maan jaaegi!' and gathered applauses.
In conclusion, Akshay Kumar opened his heart and appreciated the Nagpur Crowd.  He connects immensely well with this city, and has pulled the largest city crowd ever in here, he added. He even praised the city media, saying that this is the most well behaved one.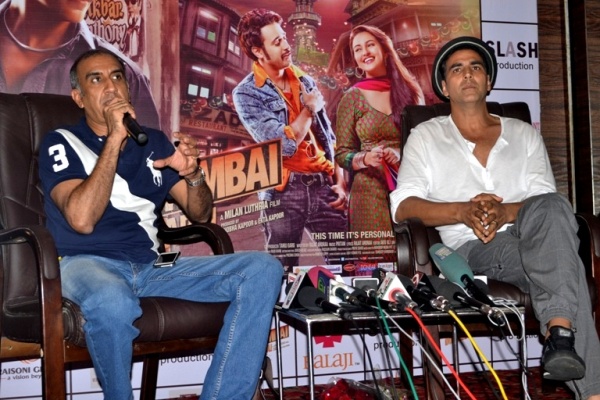 – Ritu Walia