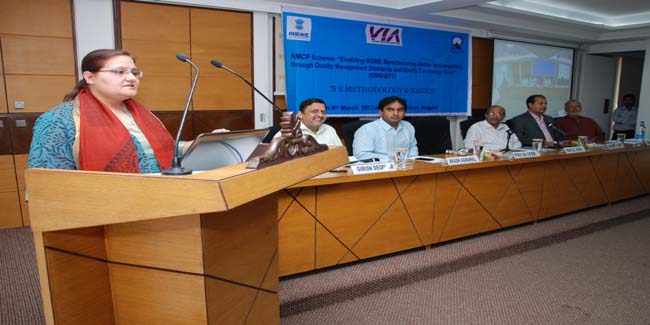 Nagpur News : A full day training program was held by the Vidarbha Association of Industries (VIA-HRD Forum) on 5 S Methodology and KAIZEN.
Sanjiv Ragit conducted the full day session covering the basic aspects of 5 S methodology of creation and maintenance of a clean, organized, safe and effective workplace with the aim of maximizing the output. Sanjiv Ragit gave an insight of all the 5 aspects of this methodology namely Seiri (sort), Seiton (set in order), Seiso (shine), Seiketsu (standardize), Shitsuke (sustain). The trainer highlighted the fact that top-down leadership in an organization is particularly for proper implementation of 5 S methodologies and bring about a cultural change.
The trainer also covered the concept BATNA (Best Alternative to Negotiate Agreement) negotiation theory. BATNA has problem solving approach as compared to aggressive, positional or hard bargaining style. Mr. Sanjiv also gave comparative details about distributive and integrative negotiation styles with different illustrations. The concept of law of attraction was also covered in this training session suggesting the candidates to focus on positive thoughts. This session also gave emphasis on the benefits of unity of labour rather than division of labour where a quality of work improves when a right person is appointed for the right job in clean and conducive work environment.
The Japanese KANBAN methodology developed by Taiichi Ohno, at TOYOTA was also a part of this training. KANBAN methodology when used with proper planning and tools can considerably reduce in inventory levels, increasing inventory turnover, increase accuracy in inventory manufacturing calculations. The 3-bin system where there is no manufacturing was also explained. This method can be help retailers who are involved in goods trading. Lean manufacturing processes and techniques aiming to reduce the unnecessary and unproductive tasks in an organization was also discussed.
The second half included a detailed discussion on KAIZEN, a Japanese philosophy of continuous improvement in processes manufacturing, engineering and business management. Supply Chain management which aims to manage the supply of goods with quality, costs and time factor as key drivers was also a part of this training module. SCOR one of the most common supply chain model was also discussed. The costs and problems involved in reverse logistics warehousing were explained.
Overall, the training focused on different methods of improvement in various business processes so as to reduce costs, time and increase output. He explained the theories citing various examples through games, Case studies, video clippings etc.
The Programme was conducted by TUV SUD South Asia, Mumbai in collaboration with MSME and QCI.
The programme was largely attended by students, Industrialists, Young Entrepreneurs' and members of VIA.
At the outset, Sanjiv Ragit, the eminent Speaker and Priya Iyer from TUV SUD South Asia, Mumbai was welcomed by Prafull Doshi, President-VIA. On behalf of TUV SUD South Asia, Mumbai Priya Iyer gave introductory remarks. Ashit Sinha, Advisor-HRD Forum summed up and gave Vote of thanks. The inaugural session was conducted by Girish Deodhar, Chairman-HRD Forum.