Nagpur: The vibrant spirit of Teej Festival illuminated the heart of Nagpur as De Martini Lounge in Dharampeth transformed into a tapestry of joy and tradition on the auspicious occasion of August 18, 2023. Hosted by the dynamic duo, Sonal and Sheetal, the event encapsulated the essence of Teej celebration, offering an enchanting evening of culture, camaraderie, and surprises.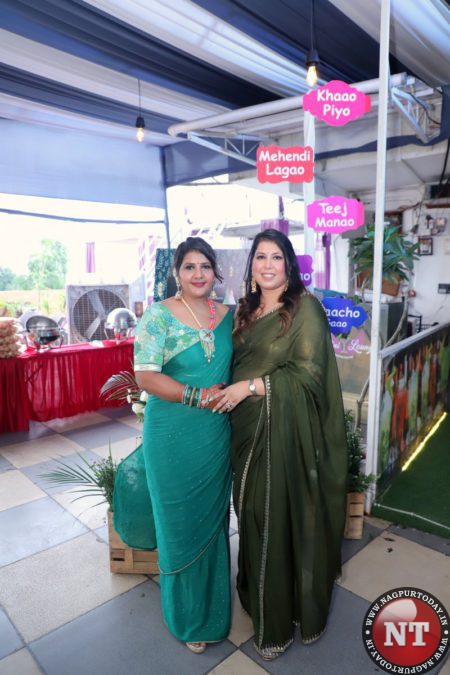 The festivities were nothing short of extraordinary, as the venue resonated with the beat of the dhol, the intricate patterns of mehndi, and the cheerful cheers of Housie enthusiasts. The celebration was an amalgamation of diverse elements, from the traditional to the modern, seamlessly blending the sacred with the social.
Green, the color of growth, vitality, and rejuvenation, took center stage as the dress code for the evening. Each lady radiated elegance and grace in her resplendent green attire, symbolizing not only the auspiciousness of Teej but also celebrating the essence of married life.
Under the cloudy skies of Nagpur on Friday, the event unfolded like a magical tapestry, interweaving tradition with contemporary entertainment. High Tea was served with a delightful array of treats, while engaging games and exciting surprises added an element of suspense and thrill to the evening.
The essence of community and partnership was further enriched by the presence of Radio City 91.1 FM, who lent their support as event partners. Their involvement added an extra layer of excitement and energy, ensuring that the melodies of the festivities reached even greater heights.
The Teej Festival celebration at De Martini Lounge was a testament to the enduring spirit of tradition and the power of unity. As the sounds of laughter and camaraderie filled the air, the event showcased the beauty of cultural celebrations that have been passed down through generations.
Nagpur Today lensman Bhavesh Mahalle brings you exclusive clicks from the event.