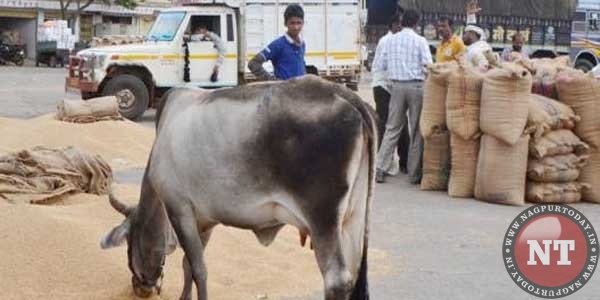 NAGPUR: Agitated over the negligence of administration and police towards increasing crime incidents at Kalamna market, farmers and traders have given a bandh call on 18 and 19 July at Kalamna market.
Farmers and traders at Kalamna Agriculture Market are worried over the increasing terror of anti-social elements and thieves in the area. The incidents of loots with traders and farmers are becoming a day to day affair. Though a police station is situated in the market premises, the inaction on part of the police is encouraging the miscreants.
The Kalamna market witnesses a business of crores of rupees every day. Farmers from distant places bring their agriculture produce to the market, where it is procured by traders. Due to negligence of police and civic administration, the influence of anti-social elements is increasing since last many days. Traders and farmers are looted by pointing knives at them. Fruit traders are the biggest victims of the loot incidents. The trucks that come loaded with agriculture produce are targeted by gangs of thieves.
Farmers, who come from distant places, sleep in the same premises or in their vehicles parked there. The gangs of thieves take advantage of this and loot cash and valuables from the farmers by showing arms. They also threaten the farmers and traders of life if they approach the police.
Two days back, the gangs of thieves targeted seven-eight shops and offices in the night. Rakesh Kalwani has registered a police complaint in this regard. The other victims included Lalchand Gupta, Panna Sahu, Rakesh Sahu, Haji Ismail, Harish Chhabrani and India Fruit Company.
Though security guards have been appointed in the market, traders and farmers alleged that the guards and police were hand in gloves with the gang of thieves and therefore no action was taken against them.
Cess of crores of rupees is collected every month from the market but no steps were taken to provide safety and security to the farmers and traders.
Members of Nagpur Fruit Dealers' Association had submitted a memorandum to the Agriculture Produce Marketing Committee (APMC) and to Kalamna police station about their problems. The Association members recently also met Cooperative Minister Subhash Deshmukh and demanded strict action against the miscreants.
The delegation that met the minister included Anand Dongre, Rajesh Chhabrani, Shaduram, Manoj Mainani, Ghanraj Mainani, Raja Mainani, Tasleem, Bablu, Pannalal Sahu, Jay Tiwari, Sheikh Pyaru, Baba, Milind Fulzele and Milind Pendharkar.