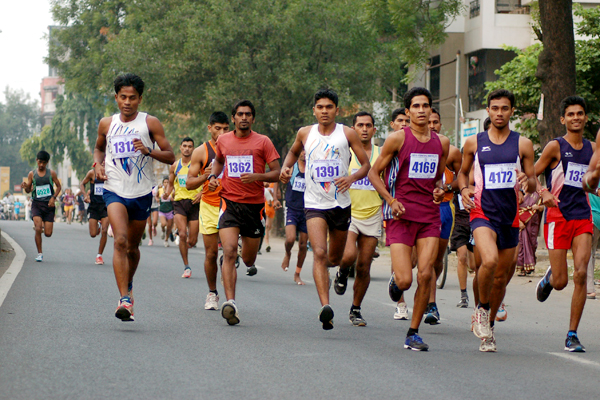 Nagpur News: The 14th Panjabrao Deshmukh Sports Festival which got underway at Dhanwate National College ground on Saturday saw Nikhil Shende emerged winner in cross country in men's category while Rohini Raut won in women's category on Sunday.
In football, Dr. Ambedkar College, Hislop College, SKP and MWSSM have cruised into the semis winning their respective matches.
Cross country had become cynosure of all eyes as Nikhil Shende of Sharad Chandra College, Butibori secured first position in 31.47 minute, while S B City College's Yogesh Shende stood second (34.11 min) and Omprakash Bhyivgade of the same college managed to secure third position (35 min) respectively. In women's category, Rohini Raut emerged winner (19.48 min). Rajshree Padmagirwar (20.39 min) of S B City College secured second position while Neha Borkar (35 min) of Mokhare College finished third in the competition.
In football, Dr. Ambedkar College thrashed YCCE 3-0, Hislop College drubbed GNIT 3-1, SKP blanked PWS 1-0 while MWSSM crushed Priyadarshini College 3-1 to cruise into the semi-final. In semi-final, Dr. Ambedkar College will take on Priyadarshini College, while SKP will face MWSSM.
In a semi-final match, Dhanwate National College drubbed Porwal College 22-25, 25-20, 15-10, while Barrister S K Wankhede College crushed St. Gadgebaba College 25-19, 25-16 to book berth in the final. The final would be played between Dhanwate National College and Barrister S K Wankhede College.
In women's volleyball, Mohota College of Science drubbed Women's College 25-7, 25-4 while R S Mundle College thrashed Shivaji Science College 25-11, 25-14 to enter into the final. Final would be played between Mohota College of Science and R S Mundle College.
In men's kabaddi, Vidya Mahavidyalaya defeated Chakrapani Mahavidyalaya 43-30, NTCPE drubbed ACSC, Koradi, 38-6, Arts College, Devli, thrashed Porwal College, Kamptee, 31-14 and MWSSM thrashed S B City College 24-20 to cruise into semi-final. Semi-final matches would be played between Vidya Mahavidyalaya and NTCPE; Arts College, Devli will take on MWSSM.
In women's semi-final, Shriniketan Mahila Mahavidyalay will take on Sevadal Mahila Mahavidyalay while C P and Berar will face S B City College.
In men's basketball, Priyadarshini College thrashed Tirpude College 29-26 (2-12, 6-4, 10-7, 11-9) while Hislop College defeated VNIT 29-26 (5-6, 6-6, 5-5, 14-9).
In cricket underway at Vasant Nagar ground, Anjuman Engineering College trounced Sharad Pawar College by 8 wickets.
In another match at same venue, Centre Point College drubbed Abha Gaikwad College Engineering College by 8 wickets.
The prize distribution programme of the sports festival is scheduled to be held on September 16.
The programme would be presided over by president of Shivaji Educational Institution, Amravati, Advocate Arun Shelke. Nagpur mayor and professor, Anil Sole would be present on the occasion as chief guest. Deputy director of sports and youth affairs, Amravati Division, Dr. Jaiprakash Duble would be the guest of honour.
Result- 15.09.2013
Football
1.         Dr. Ambedkar                         Beat                 YCCE                        3-0
Abhilash Shende- 9th
Razik Sheikh – 15th
Sheikh Sarik- 25th
2.         Hislop                                      Beat                 GNIT                          3-1
Muzammil Khan-10th                                                   Pratik Chimankar-38th
Owas Khan-15th
Amol Yadav – 40th
3.         SKP                                         Beat                 PWS                            1-0
Riyees Ahmeed -42nd
4.         MWSSM                                 Beat                 Priyadarshani              3-1
Ilyas Ali-4th , 49th                                            Dominic J. Haokip-45th
Rasid Ansari-5th
Semifinal
1st         -Dr. Ambedkar           vs         Hislop              8.00 am
2nd        – SKP                          Vs        MWSSM         9.30 am
Volleyball Men-
1.         SKP                             Beat                 VNIT                            25-16, 19-25, 15-03
2.         DNC                           Beat                 IDCPE                                    25-19, 25-23
3.         R.S. Mundle                 Beat                 Br. S.K. Wankhede      25-17, 25-20
4.         Mohta Science            Beat                 G.S. College                 25-0, 25-0
5.         R.S. Mundle                 Beat                 DNC (Jr.)                      25-18, 25-16
Quarter Final
1.         DNC                             beat                 MMV                           25-0, 25-0
2          SKP                             beat                 R.S. Mundle                 25-0, 25-0
3          Sant Gadge Baba        beat                 IDCP                            25-17, 25-15
4          Br. S.K. Wankhede      beat                 MWSSM                      25-23, 22-25, 15-10
Semi-Final
1.         DNC                             beat                 S.K.P.                           22-25, 25-20,15-10
Nedant Thaware                                 Masim Khan
Rohit Chidam                                      Mohsin
2.         Br. S.K. Wankhede      beat                 Sant Gadge Baba        25-19, 25-16
Subham Durne                                    Sohel Khan
Vikas Kamble                                      Akash Arkhel
Final  16 sep
1.         DNC                           V/S                  Br. S.K. Wankhede
Volleyball Women-
Semi-Final
1.         Mohta Science            beat                 Mahila MV                              25-7, 25-4
Harsha Hore, Diya Kale                      Shital Johari
2.         R.S. Mundle                 beat                 Shivaji Science College           25-11, 25-14
Diksha Deulkar
Simran Choudhari
Kabbadi Men
1.         ACS Koradi                Beat                 DNC                           31-28
2.         Arts College Deoli      Beat                 C.P.& Berar                47-13
3.         SKP,Kamptee             Drow               HBT                            29-29
Quarter Final
Q.1.     Vidya Vikas MV        Beat                 Chakrapani MV          43-30
Abhijit Bharre, Rahul Jadhav             Mahesh Jumde
Q.2.     NTCPE                       Beat                 ACSC, Koradi                        38-06
Sohan Waghchavre, Suraj Raut          Amol Firke, Sanjay Aahake
Q.3.     Arts College, Deoli     Beat                 SKP, Kamptee                        31-14
Q.4.     MWSSM                     Beat                 S.B. City                    24-20
Semifinal on 16 Sep
1st         Vidya Vikas MV                    vs         NTCPE                       8.00 am
2nd        Arts College, Deoli                 Vs        MWSSM                     9.0 0 am
Kabbadi Women
1.         S.B City                      Beat                 Mahila MV                  56-19
Semifinal        1st         Shri Niketan Mahila MV        vs         Sevadal Mahila MV                8.00 am
2nd        – C.P. & Berar                         Vs        S.B. City                                 9.0 0 am
Baketball – Men
1.                     Priyadarshini               Beat     Tirpude College          29-26 (2-12, 6-4,10-7,11-9)
Bhatiya – 14                            Charanpreet Saini – 10
2.                     Hislop College            Beat     VNIT                          29-26 (5-6, 6-6, 5-5, 14-9)
Rajat Pawar- 10                      Shubham Lakhani – 09
Cross   Contry            
Men – Nikhil Shende             –          Sharad Chandra MV, Butibori           –           31.47 First Place
Yogesh Shende           –           S.B. City                                             –           34.11 Second Place
Omprakash Bhivgade –           S.B. City                                             –           35  Third Place
Women – Rohini Raut            –          DNC   –                                               –           19.48 First Place
Rajashree Padmagirwar          –           S.B. City                                 –           20.39 Second Place
Neha Borkar                            –           Mokhare College                     –           35  Third Place
CRICKET RESULT SHEET    DATE : -15 Sept. 2013
1st  Match                               GROUND :- Vasant Nagar               
Result :- Anjuman Engg.        Won by 08 wicket
TEAM'S:- Anjuman Engg. College 90-18-02      Vs           Sharad Pawar Coll. 86-19.1-10
2nd   Match                             GROUND :- Vasant Nagar               
Result :- Centre Point.   Won by 08 wicket
TEAM'S Centre Point College 38-4.2-02      Abha Gaikwad Eng.. 36-15-10
16 Sep
 Match            1st         Hislop College                             Vs        DAIMSR MV                            9.00 am
2nd        ITM CE Kamtee                         Vs        SKP Kampteee                           12.3 0 pm
Semifinal Matches 7.30 am
Third Place 2.00 pm
Final Matches 4.00 pm
The Prize distribution – 16.09.2013
President of function              –          Adv. Arunbhau Shelke,
President Shri Shivaji Edu. Society, Amravati
Chief Guest                             –          Hon'ble Prof. Anil Sole, Mayor NMC, Nagpur
Guest of Honor                       –          Hon'ble Dr. Mahesh Kumar Yenki,
–                Dr. Jayprakash Duble, Deputy Director Sport & Youth Welfare, Amravati Division