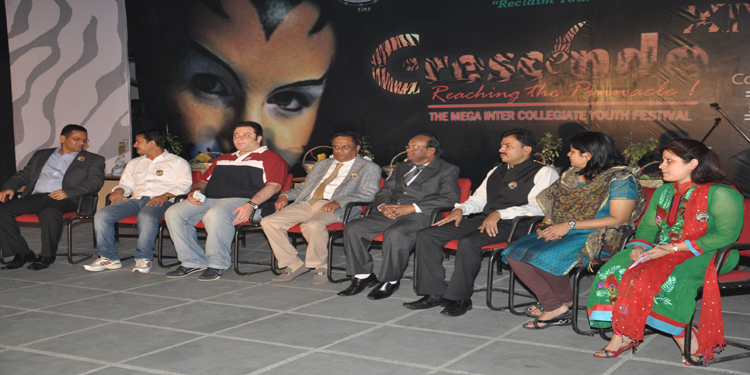 Nagpur College News : Tirpude Insittute of Management Education (TIME), one of the leading Management Institutes in Central India is at the forefront of educational and extra-curricular initiatives for students.  In continuation of this credo, 'Crescendo Stripe Up 2012', Central India's biggest youth festival, was inaugurated at the sprawling college campus on 25th October 2012. The college has been successfully organizing this event for the past 13 years under unique themes. The event is co-sponsored by IBM & Bostik and the theme this year is very innovative: "Crescendo – Reclaim Your wild Side, Stripe Up", which perfectly complements the currently ongoing campaign to 'Save Tigers'. The theme is very appropriate, since Nagpur is the world's Tiger Capital.
The ceremony began with lightning of traditional lamp at the hands of the cchief Guest and dignitaries.  Chief Guest for the function was Mr. Jamashp Bapuna-Jt.Managing Director, Dinshaw's and the Guest of Honour was Mr.Walchand Gittey, Regional Manager-Sales & Marketing, Bostik. The function was graced by Mr.Rajkumar Tirpude (president, Yugantar Education Society), Mr.W.T.Kombade (Gen. Secy., Yugantar Education Society), Dr. Lalit Khullar, Director, TIME, Dr. Sanjay Kavishwar-Dean Academics & Admissions, Prof. Medha Dixit and Prof.Carol Poonekar, In Charge-Crescendo.
On this occasion, the dignitaries addressed the students on importance and relevance of the theme. While appreciating the appropriateness of the theme, Mr. Bapuna stressed that the current generation has done so much for wild life conservation and that it is for the next generation (youth) to take this up to a higher level now. He said that it is the students' duty to give results to their professors. Mentioning words of encouragement, Mr. Rajkumar Tirpude congratulated the students and faculty members for organizing such a massive event and reiterated his support for the same. Dr. Khullar thanked the co-sponsors and all other sponsors of individual events for their generosity and support in making this event possible. He thanked the various colleges and institutes for their participation in this Central India's largest inter-collegiate mega youth festival.
'Crescendo Stripe Up-2012' is a 4-day cultural and sports extravaganza, which provides the youth in and around Nagpur to showcase their talents.  The programme has generated an overwhelming response from the student community this year. In her address Prof.Carol Poonekar, Incharge-Crescendo, informed that over 185 colleges and institutions have participated this year in Crescendo Stripe Up-2012 under various events.  She further stated that the college follows a corporate structure for organizing this event and that the entire event is managed by students themselves, under the guidance of faculty members.  Nipam Patni is the CEO for Crescendo Stripe Up-2012.
Present on the occasion were faculty members, non-teaching staff and an overflowing crowd of enthusiastic young college students.  The programme was conducted by Prof. Ketaki Salankar and vote of thanks was proposed by Dr.Lalit Khullar.