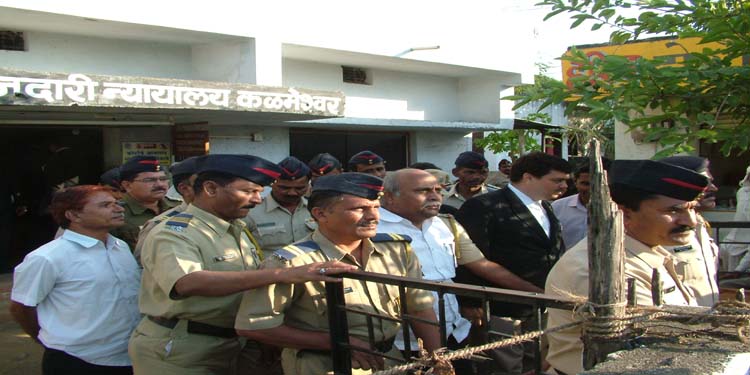 Nagpur News: An uneasy calm prevailed at Kalmeshwar court on Thursday after a mob of women thronged with their slippers to hit Deshonnati editor-in-chief and owner Prakash Pohare when he was brought to the court.
The women protestors included murdered Rajendra Dupare's wife.
Pohare was arrested on Tuesday morning from his farm house at Kaneri village, around 15 kms away from Akola. He was granted police custody remand till Thursday by JMFC V I Bhandari. After Thursday's hearing, Pohare's PCR was extended till Friday.
Pohare has been slapped with charges of murder and arms act after his former employee Rajednra Duapre, a security guard, was shot dead outside the printing press at Gondkhairi on October 13.
Assisting public prosecutor, Advocate Prakash Jaiswal informed that some more interesting facts come fore in the court that the private security guard, Harikrishna Dwivedi, who fired a round at Dupare during the scuffle, holds the rifle licence of West Bengal.
Jaiswal said that it was Dwivedi's first working day at security agency when the incident took place. "On October 13, Dwivedi had come to Kanpur in the afternoon for the interview at the security agency. He was selected and send with Pohare," he said. He claimed that this small links shows conspiracy in the case.
He claimed that despite of two days of police custody, Kalmeshwar police has submitted only half page remand in the court which clearly signify that police is under pressure. Sources informed that Pohare is not supporting with police for investigation.
Blaming that the Kalmeshwar police inspector S Maitre is under pressure and not investigating up to the mark, Deshonatti Patrakar shrmik sangh members demanded to change the investigation officer in the case.
The protestors claimed that police had hid the news of Pohare's arrest from them. On getting the news from media, they marched to the police station for stern action. on Thursday, Dupare's wife and other women protestors tried to hit Pohare with their slippers but were intervened by the ladies constables.
Police had a tough time for minutes controlling the mob and taking Pohare safely. It was learnt that Pohare even suffered injury on his hand after he slipped from the stairs at Kalmeshwar police station on Wednesday.