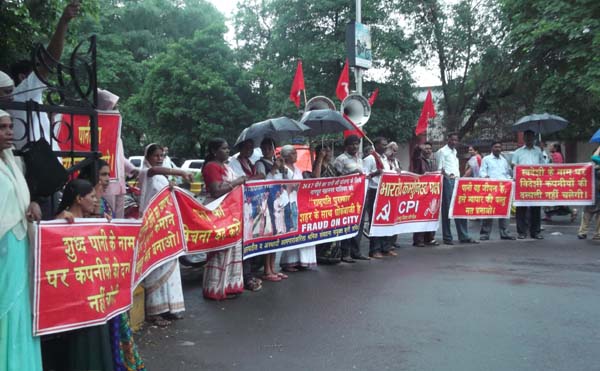 Nagpur News: They say: An intellectual person turns a nagging problem an opportunity for himself and uses the opportunity to climb the success ladder. Here, an opportunity is awaiting NMC to throw the "White Mouse" OCW into flooded rivers of Nagpur. Then only the water supply company would realize the real meaning of water.
And the slogans on the same lines rent the air in NMC premises. Hundreds of Communist Party of India (CPI) leaders and activists gate crashed the NMC HQ in Civil Lines for cancellation of contract with Orange City Water (OCW). The CPI activists shouted in high-pitched voice logans like "Panika Nijikaran Dhokha Hai" (Privatisation of water is a cheating), "Pani Ka Vyaparikaran Nahi Chalega, Nahi Chalega" (Commercialization of water will not be allowed), "Panise Munafa Kamana Band Karo," (Stop profiteering from water), "Manapa Pani Ka Vyavasthapan Apne Hath Me Lelo," (NMC take management of water in its hands).
A CPI delegation met the NMC Commissioner Shyam Wardhane and handed over him a memorandum of various demands chiefly being scrapping of agreement with the "total failure" OCW on every possible front. The delegation was led by CPI's District Secretary Bhai Jammu Anand. Other leaders include City Secretary Ajay Shahu, Pandurang Durge, Dnyandas Gajbhiye, Sheshrao Gotmare, Sanjay Raut, Marotrao Hingwe, Sheela Mohanti, Shankar Mourya, and others.
The CPI put their various demands before the NMC Commissioner including:
1)      Immediate cancellation of NMC's contract with OCW which supplies water to city or say, robs consumers by various dirty ways and means by supplying not a single drop of water through the much hyped 24×7 scheme.
2)      NMC should itself manage water supply through the Water Works Department.
3)      Strengthening of Water Works Department in order to facilitate regular supply and appropriate water bills unlike the OCW which is on looting spree with blessings of some bigwigs.
4)      Restoration of works to the permit-holder plumbers who were and are being ditched by OCW.
5)      Regularization of all contract workers performing duties in water supply management.
6)      Recovery of penalties from OCW for failure to comply with the agreement terms and conditions.
7)      Detailed investigation into the financial irregularities indulged in by OCW thus causing huge losses to NMC
The CPI also demanded the update of an inquiry by Rana Pratap Nagar Police Station and Economic Offences Wing of Police Commissioner's office against OCW's irregular financial activities and robbing of consumers by the company. The CPI leaders charged that why the NMC is not taking decisive and concrete steps against the corrupt OCW despite knowing the company is indulging utter financial malpractices. Is NMC under the influence of some political leaders or the OCW itself turned the NMC helpless for obvious reasons?
The CPI leaders urged the NMC Commissioner to meet their demands for the benefits of NMC itself and the harassed consumers.