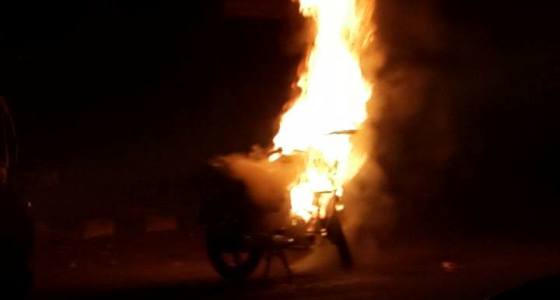 Nagpur News.
Jaripatka police booked three persons for setting ablaze a motorcycle and causing a loss of Rs 10,000 to the complainant on Sunday.
Police said, the complainant Rajshree Ajay Mohod (42) was sitting at Bouddhgaya Buddha Vihar near her house on Sunday at 11.30 pm.
The accused Vicky Ghodeswar, Bandu Wankhede, and Bapu came to her and asked her to leave the place. Rajshree left the place. After reaching home, she narrated the incidence to her son Rohan (21) who approached the accused and asked the reason why they asked his mother to leave. The quarrel erupted between Rohan and the accused who later set ablaze Rohan's Splendour bike (MH 31 DW 1831) and threw the bike into nearby nullah causing a loss of Rs 10,000.
On the complaint of Rajshree, Jaripatka police booked the accused after registering a case under Sections 435 and 34 of the IPC.