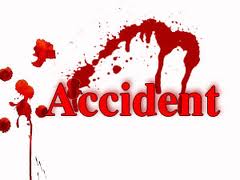 Nagpur News: Three people were killed and three escaped with serious injuries in three separate accidents in the last 48 hours.
At Sitabuldi, a 38-year-old son witnessed his elderly mother crushed under wheels of a speeding matador vehicle on Saturday night. Ambedkar Nagar resident Amit Gajbhiye, 32, and his mother, Mamta, 55-year-old, had gone for a reception at Dharampeth.
Around 10.30 pm, the mother-son duo were heading on their bike to home at Ambedkar Nagar when a speeding matador driver knocked the bike at the turning point near Bole petrol pump.
Mamta, who was riding pillion, slipped and came under the rear wheels of the matador while Gajbhiye was thrown on the other side. Gajbhiye, who was driving without helmet, sustained serious injuries.
While the passers-by rushed the injured to nearby private hospital, the matador driver managed to flee. Sitabuldi police has registered a case against the driver, who is still absconding.
Another incident took place under the jurisdiction of Rana Pratap Nagar police station wherein a retired cop was killed and two others are still battling for their life. Arun Bhadikar,60, a resident of Bhujbal layout, had retired as Dysp from rural areas. Two others-Dindayal Nagar resident Sandesh Dharmadhikari, 42, and Harish Deshpande, 38, a resident of Trimurti Nagar- are still under critical condition at private hospital. Bhadikar had worked for many years in city traffic police department.
Police said that the trio had violated the rules. "All three were heading on a bike and none of them had worn a helmet," said police.
Cops informed that the trio had gone for a dinner together at an eatery near Jaitala area. "The injured are still unconscious and thus it's not yet clear who was driving the bike," said police.
Police sources informed that the trio's bike was at high speed and it suddenly slipped near Priyadarshani girls hostel. All were thrown on the road but Bhadikar succumbed to his injuries on the spot.
On being informed by a passer-by, PSI Jafar Shaikh from RP Nagar police station lodged a complaint.
On Sunday afternoon, a 60-year-old unidentified man was knocked dead by a rashly driven four-wheeler on Hudkeshwar ring road. The accused driver, Anil Fating, 32, a resident of Sanjay Gandhi Nagar, was thrashed by public and later handed to Hudkeshwar police. The deceased, whose identity is still not known, was riding on cycle.