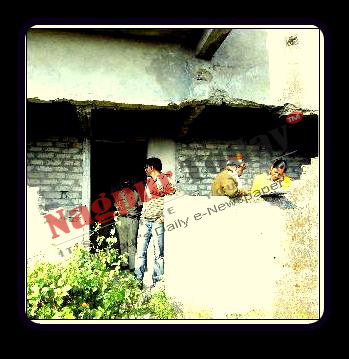 Nagpur News.
The three accused in brutal murder of Salman Ansari alias Pappu, who were arrested within 24 hours of the crime, were produced in a Saoner court which remanded them to police custody for three days.
It may be recalled, Pappu was murdered in a dilapidated structure away from the town by slitting of his throat by a sharp-edged "Hattimar" knife by the accused on Sunday under Khaparkheda Police Station jurisdiction. Two of the accused were nabbed the second day only and the third one, the key accused Bablu Francis Thorat was arrested from a village under Deolapar. The arrests were made by API Bansod, API Sunil Bhadegaonkar, Constables Kohre, Ishwar Chauhan, Amit Umathe and Ashok Dhande within 24 hours of the murder.
According to sources, the areas under Khaparkheda Police Station namely Walni, Sillewada, Chankapur, and other areas have become hubs of gangs involved in drug (Gard, Charas, Ganja, Cocaine) dealings. The unemployed youths were often found under the influence of drugs of various combinations in the areas and according to reports, more and more youths are becoming drug addicts with every passing day.
Pappu's murder was also the fallout over drug money. Pappu owed a large amount of money to the alleged murderers who were alleged to be under the influence of drugs. A gang having several members has been active in drug business in the areas. The big gang is on radars of police and they have been hunting them since past many days. But other small drug peddlers take advantage of police hunt for big gang and indulge in drug dealings without any fear. An alleged drug addict Ashok Dhage was murdered some 8 months ago by two drug addicts.
The dilapidated structures in the areas have turned havens for drug addicts. The houses in Masurkar Layout, barely 100 meters away from Koradi Devi Temple road, have turned into "Khandahar" (ruins) and have been frequented by the criminals in gangs. And the criminals plan or indulge in all sorts of illegal activities, Salman Ansari alias Pappu's murder being one of them.
According to police, Salman was a drug addict and had taken money from a number of people. But he often threatened the money lenders of dire consequences if asked for their money.
Salman had taken money from the accused Bablu Francis Thorat, and when asked for money he often threatened to kill Bablu. Bablu was fed up with Salman's regular threatening and in order to get rid of these threats, he allegedly planned to eliminate Salman. On Sunday, Bablu reached Salman's house at around 1 pm and offered him drugs. Bablu then took Salman to an old building. Bablu asked Salman to prepare the drugs for a shot. Later, two of Bablu's friends Monty and Lakhan joined them.
In between, a quarrel took place between Bablu and Salman when Bablu asked for his money. Bablu, who was frustrated with Salman's continuous threats, took out a Hattimar knife and slashed Salman's throat, thus killing him on the spot.
Monty and Lakhan were stunned to witness the bloody kill and took to their heels. Bablu also escaped the scene. Someone informed about the incident to Khaparkheda police. During preliminary information, it was revealed that Salman was involved in petty crimes. Police also said that Salman was a drug addict.