Whopping 5,500 autos found, leave alone running on Nagpur streets, are not even in condition of standing at any place. The safety of citizens is at stake as these unfit autos pose a horrid danger to the travellers because of unhealthy conditions themselves. The RTO and city police are turning their sights the other ways instead of focusing on the auotos in order to make them fit and healthy.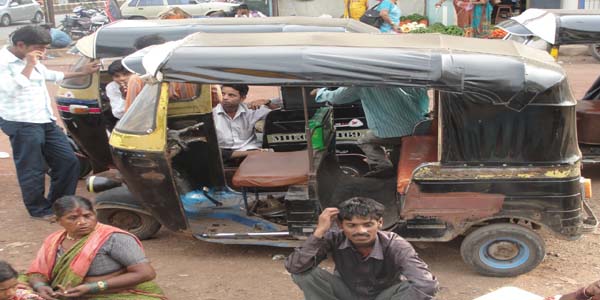 Nagpur News: Nagpur citizens beware. Next time whenever you think of travelling by autos to your destinations in the city or near around, first check the condition of the black metal  you intend to reach your place for any work. Your safety at stake. The same autos may you force you to visit an hospital rather the destination. The reason. Hundreds of autos were found  on oxygen themselves and to be thrown into scrap heaps or to get admitted to the "hospitals" (Garages) to be fit and healthy for travel.
The "main hospital" for autos, the RTO, is totally not being visited by the owners for fitness tests of them and their outmoded structures of black metal for years together. The horrid side-effect is the autos are in a very bad health (Condition) thus posing a fatal danger to the citizens. For example, out of 100 autos 60 are found on oxygen and are crying for "very good treatment." Then the figure of unfit autos could be derived from the fact that approximately 9,255 permitted autos are plying in city. More than 5,500 of them have not come for fitness tests. The state of affairs is of permitted autos. The figure of illegal autos stands at hundreds.
According to the Motor Vehicles Act, 1988, every autorickshaw has to undergo a fitness test at RTO every year. New vehicles are exempt for two years. During the test, RTO officials are supposed to drive the three-wheelers for at least two kilometres on testing track and check their meters, brakes, reflector, headlights, indicators and comfort level. If the auto is found unfit in any respect, the owner has to make the necessary changes to be able to continue to ply it.
The RTO at its own will carries out drives that too in the gaps of far distance away. In a recent drive, the RTO took action against 500 drivers plying their vehicles without fitness certificates. Of these, 387 autos were detained in various police stations across the city. The RTO has given 15 days' time for these autorickshaw drivers to obtain fitness certificates. If they fail to do so, RTO will dispose of three-wheelers in scrap. However, the figure looks miniscule in comparison to the number (5500) of autos unfit running on Nagpur roads.
Recently the RTO dismantled around 15 autos in their office at Giripeth. A gas-cutter is used for cutting these vehicles up by the mechanics and welders in the presence of the motor vehicle inspectors the RTO compound. The RTO also asks the drivers to get their three-wheelers insured during the tests. The insurance fee has become expensive, hence the drivers are reluctant to obtain fitness certificates.
An auto driver, candidly speaking, said he ferries schoolchildren. He, without fail, takes his vehicle for fitness test every year but it is a fact that hundreds of autos plying for earning more and more money instead of going to RTO and wasting "precious" hours prefer running their autos for extra bounty. He, however, pointed out that sometime the tests are not taken seriously even by the RTO. Citing another example of lackadaisical attitude of RTO and traffic police, another autorickshaw driver pointed out that private autorickshaws and autorickshaws from other districts including from Pune are openly plying on city roads. RTO officials are not bothered to take action against such autos for reasons best known to them only.
It may be recalled that there has been no issuance fresh permits for the autorickshaws since 1997. Due to this disappointing aspect, old autos continue to ply.