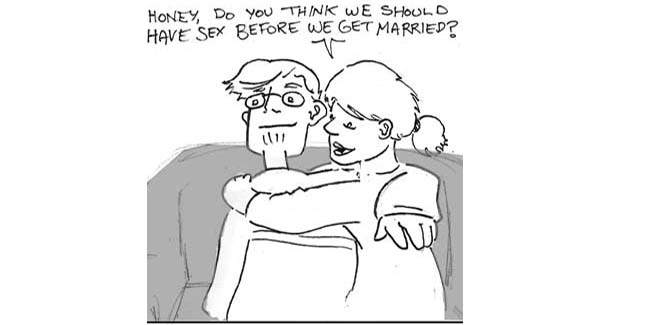 Nagpur News.
Beware hunks and blonde girls before you go easy and 'one step ahead' in your relationship…any 'private act' of yours can lead you into permanent relationship called marriage!!! Atleast Madras High Court is saying so. A recent ruling by this HC Judge puts the sexual relationship between any two unmarried adult men and women in the category of marriage. However the Madras High Court took strong objection to criticism of its verdict and stoutly defended the order saying it "protected Indian culture and welfare of women."
Whatever the verdict implies, the issue already went viral and invited quick comments by the active elements of the society.
Back in Nagpur too, the air does not favor the fine lines of the verdict.
Aditya Saraf, Founder & Secretary, ZID said, "The verdict by the court displays good intentions but not a very good intellect. Making a law out of this will be completely out of place as the relation of husband and wife is more psychological than sexual. Secondly, people are free to have consensual sex before marriage. It's their lives and their bodies … Society should not have the control over what they do with themselves which does not affect anybody else other than the couple. This is a verdict which is regressive in nature and should not be passed as a law because if it does, there will be one more unnecessary conservative law with so many exploitable loopholes. Laws like these are escape routes for real criminals and a bother for normal people."
However clarifying his ruling Madras High Court Judge CS Karnan said "If a bachelor aged 21 years or above and a spinster aged 18 years or above had premarital sex with the intention to marry and subsequent to this the man deserts the woman, the victim woman can approach a civil forum for remedy after producing necessary substantial evidence to grant her social status as wife. This remedy is not only for the purpose of giving relief to the victim woman but also to maintain the cultural integrity of India."
However Asidhara Lanjhewar, a teacher in Nagpur refused to buy this justification saying, "I feel it's totally baseless law…today's generation is majorly desperate and temporary with emotions… It's wrong way to make new generation responsible."
On the other hand this ruling find favors too. Arpit Agrawal a student at VNIT said, "Many Indians do not believe in the institution of marriage. Relations similar to live-in are being legitimized by this judgment. Also, this law is giving more power to the individuals whose partners are not brave enough to fight their family pressures to marry the girl/boy whom he "loves".
He said, "Earlier marriages used to take place at a much younger age, hence there was not too much of a need for pre marital relationships aimed at satisfaction and companionship. I personally am not judgmental towards such relationships. But I myself am very old school of thought and believe marriage is a prerequisite… or at least surety of marriage! Like all laws, this law too can be misused in case of flings between say financially unequal partners who had initially decided to be in a casual relationship. But it is more advantageous in establishing equality. Also, it legitimates children born out of marriage, who are outcasts through no fault of them. It is a landmark progressive law, I feel."
Satyajit Mittra, USA based Engineer from Nagpur said, "This is not correct I feel because what happens between adults is nobody else's business. Government should keep its nose out of other's life; they have enough on their own plate which they don't care about. Final verdict according to me should be to let things be the way they are…"