Do you like to know everything that's buzzing in Nagpur? Like our page to stay updated!

With the weather set in the transition phase – a dash of winter slightly filtering in during night, clubbed with the bouts of daytime heat, extra caution is certainly needed to take care of your skin and hair during these happy times. ShoutOut Nagpur has roped in, an expert in the field who has shared with us some skin and hair basics, and valuable dos and don'ts while you indulge in the festive revelry.
Dr Shashank Bansod – a well-known Dermatologist, Cosmetologist and Hair Transplant Surgeon of Hi-Tech Skin Cosmetology Clinic and Hair Transplant Center at Lokmat Square, got us to know some valued information on the skin and hair care. Here's what he shared with us.
What are the essentials of a general skin care?
Use a good moisturizer round the year, a strong one during winters and a mild one rest of the year. Sunscreen is an essential component of skincare, which has to be applied irrespective of season change. Considering Nagpur's climate, sunscreen having SPF30 and above is ideal.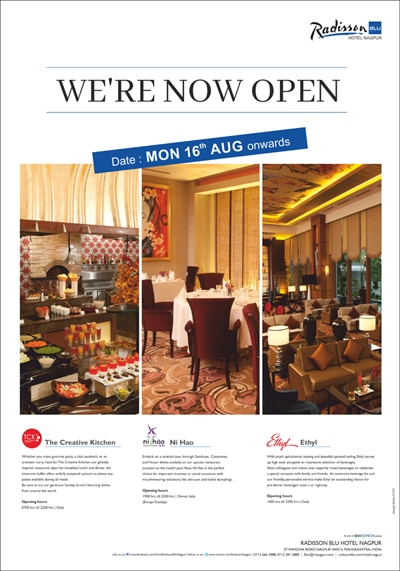 A good cleanser, compatible with the skin pH should be used, especially in the people with sensitive skin.
Along with these, avoiding harsh sun, minimising the parlour facials, scrubs and  massages also helps in maintaining a supple  skin.
What is SPF written on sunscreen packs?
It is an abbreviation of 'sun protection factor' and it is the multiplier that tells you, how long can you withstand a sunscreen after its application as compared to the duration without it.
For example if you tolerate 10 mins of sun without getting a sunburn. If you apply a sunscreen with SPF 15 your skin remains protected for the duration 15 times more i.e. 150 minutes. Regardless of SPF, a sunscreen should be re-applied every 2-3 hours.
While we understand that it is festive times and some indulgence is bound to happen. So after we are done with high calorie food, how should we regulate the diet for a beautiful skin?
Like other internal organs of our body, skin is also an organ, in fact, the largest and the only visible organ of our body. So diet works wonders on skin.
– One can start with natural detox by avoiding all the junk, spicy and sugary foods that makes you skin visibly dull.
– Eat lots of greens, yellow and orange fruits, rich source of vitamin C which is natural antioxidant.
– Include food rich in vitamin E in your diet, like avocado, dry fruits and nuts.
– Drink about 4 litres of water a day
Any specific treatment you recommend for that blemish free skin?
– Apart from diet and general skin care, there are multiple treatments available to suit the facial needs.
– Most common of these is called a 'chemical peel'. There are different types of peels for different conditions, from dark spots to acne to dull skin. It is a safe treatment with no side effects and good results. But it has to be done strictly under the guidance of qualified dermatologist only.
– Apart from this, there is mesotherapy for skin glow, vampire facial treatment for skin tightening and anti-ageing. More advanced are BOTOX treatment, fillers and thread lifts for drastically reducing years from your age which is favorite procedures of many Bollywood and Hollywood celebrities. Then there are laser, PRP Therapy for skin rejuvenation. Treatments are advised considering skin types.
What are the common skin conditions, for which patients approach you and what are the preventive measures for the same?
– Acne or pimples is a common condition for which patients, specially teenagers, approach me. Along with prescribed treatment, dietary modifications like avoiding oily foods and dairy products are advised.
– Melasma or waang commonly seen in females comprise large chunk of patients. Minimising sun exposure, reducing stress and proper and continuous treatment is advised.
– Fungal infections or tinea is rampant now a days. Mostly such cases are aggravated by steroid based creams applied by the patients, under wrong influence or by self-medications. Through this article, I request everyone, not to use any over-the-counter steroid creams. For any condition visit a dermatologist.
How to take care of your hair considering the busy lifestyle and pollution?
– Hair adds to your aesthetics and make you look younger than your age.
– Apart from good diet as mentioned before, you should also avoid putting your hair to harsh treatments like hair straightening and frequent chemical-based hair coloring.
– Use a good quality shampoo and conditioner twice a week to cleanse your hair.
– Oiling your scalp twice a week helps to keep your scalp moisturized, especially in winters; coconut, hibiscus and almond oils are good options.
– A common misconception, thanks to advertising, is that using particular hair oil prevents the hair fall and aide hair growth. This is not true. Oil just moisturizes your scalp and should not be considered as an anti hair loss treatment.
How to manage hair fall, the most common condition encountered by almost everyone?
– Hair fall or hair loss is not just a hair disease now; it also brings down patients' confidence and self-esteem.
– Eat right, care your hair right and consult a hair specialist if the problem increases.
– There are many effective therapies for hair fall, depending on the type and severity of hair fall. These include meso cocktail and PRP Therapy to advanced scalp threats and hair transplant surgery as last resort. The key is not to wait till you get bald and see your doctor early.
Any message for readers?
– Do care for your skin and hair as it is an asset rather than a liability.