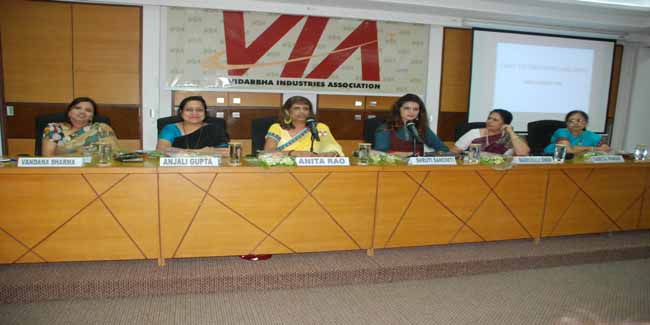 Nagpur News : – In a program organized by VIA LEW. Ms. Shruti Sancheti, Renowned Dress Designer, Stylist & the only stylist from Nagpur who has successfully made it to the 'Lakme Fashion Week' Mumbai and Wills Lifestyles, in conversation with Madhubala Singh, Past Chairperson LEW. Shruti shared the "X" Factor that works in the fashion world and how women can achieve work-life balance to be a successful entrepreneurs'. Shruti has participated in numerous national and International fashion shows and had some famous models and Film stars as show stoppers.
Shruti said marriage is not a dead end but can open up new avenues for every woman if you dare to dream and are determined to your work then you will be easily recognised by everyone. She said she studied for 7 years after marriage, worked hard to built her career and achieved everything in her life. The speaker said she born in Kolkata and is her "Janam Bhoomi", however, she built her career and achieved everything at Nagpur and therefore Nagpur is her "Karma Bhoomi".
Shruti added that she got support, blessings and unconditional love from her family, who are into Politics and Business, but whatever little she have achieved in life is entirely due to determination, hard work and destiny. But she said during initial stage she has struggled a lot and faced many problems like everyone. But later, things worked out in her favour with continuous hard work and willpower. She said "a woman has the power and quality to maintain and achieve work-life balance to be successful lady entrepreneurs".
Summing up, she shared the 'X" factor that works in the fashion world and said Designing" is not about blindly aping trends, it is about following your instincts and coming up with something out of the box, create your own identity rather be someone else. She built her label by resolutely working to revive traditional Indian weaves. After a successful tenure as a Fashion Designer many options and many opportunities opened up but she continuously maintained her determination to work hard as a beginner.
The programme which was free and open to all extremely helped Stylists Dress designers, Boutique owners and students of Fashion Designing. This programme also helped and benefited lady entrepreneurs, students & housewives.
At the outset, the speaker, Shruti Sancheti was welcomed by Anita Rao, Chairperson- LEW. The speaker was introduced by Madhubala Singh, Past Chairperson LEW, summing up and vote of thanks was proposed by Vandana Sharma, Secretary, LEW.