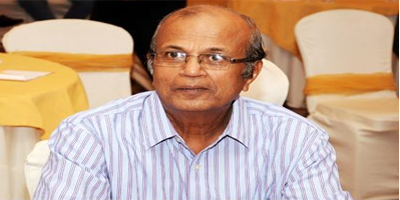 Nagpur Today got up close and personal with Mr.Prafull Doshi-President VIA, a renowned businessman.
Marcello: What made you a businessman and what is your story of your success?
Prafull Doshi: I have a joint family business and watching my father in the steel industry and having worked for many organizations made me think that I should help my dad and that brought me to the business scene. The story of my success is simple "There is no short cut to success" 
Marcello: How is your experience of working in different sectors?
Prafull Doshi: Honestly working in different environment was great but if you say sectors' then I have only worked in steel sector.
Marcello: What is the philosophy of a successful businessman in your view?
Prafull Doshi: Again I would say "There is no short cut to success"
Marcello: Did you face any challenges in mobilizing you capital? What were the financial requirements and how did you mobilize funds?
Prafull Doshi: There weren't any problems if you ask me so, we already did our research and kept our strategies ready and that helped us in a big way and we never faced any problems in the process.
Marcello: How is the industry today and its market trends?
Prafull Doshi: With the policy of the government always saying that they help the industries I would personally say that they don't and the overall scenario is not good at all and as far as the market trends are concerned we have to stay and work with what comes our way as we have less chance of changing the market. The cost of so many items is increasing like fuel, food and so on. Every industry is on a downward graph and we need to work in coordination with the government and help it grow. But the political aspect that plays a major role in industry should work properly then only can the industry flourish.
Marcello: Which characteristics you possess that you consider to have contributed to your business success?
Prafull Doshi: Whatever commitment we are making we are delivering it and if you ask me from my side I think Devotion. Devotion is a must a businessman should be 100% devoted to what he has started and that should be his daily focus because if you are devoted and focused then only you can jump and conquer every obstacle in life and business also.
Marcello: What are your business goals in future?
Prafull Doshi: Now I am 62 it's my retirement age but I am happy to see my second generation all geared up to take the mantle forward. My son and my brothers son Ashish and Hardik are all geared up to take the mantle forward
Marcello: How do you spend your leisure time?
Prafull Doshi: I don't get time at all but in-case I get time I like to meet  friends and socializing
Marcello: What are your favorite books or TV programmes?
Prafull Doshi: I don't like books and tv but if I watch I like cricket.
Marcello: If you could give just one pithy piece of advice to the financial mavens who have brought the world    economy to its knees, what would that be?
Prafull Doshi: I am too small to comment on them they know what's best but I can only say that Political stability is required.
—Marcello Azavedo