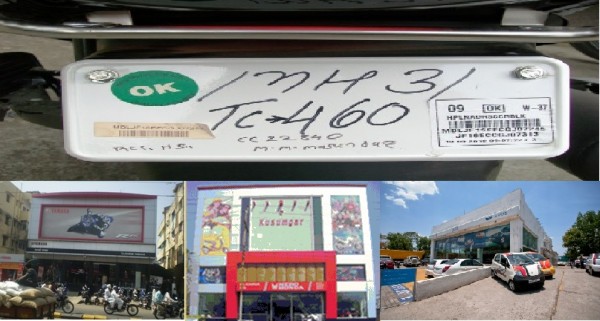 Nagpur News: Nagpur RTO has suspended the trade certificates of three automobile dealers in the city. The license of these dealers have been suspended for delivering new vehicles without registration numbers. The suspended dealers are Jaika Motors ( Civil Lines), Tajshree  (Deo Nagar) and Kusumgar Automobiles (Baidyanath Square). RTO officer Sarjerao Shelke told us that these dealers cannot do business for 15-days from October 7 to October 22 under section 44 of the Central Motor Vehicle Rules. "Besides this similar notices will also be served to another 10 dealers, and then he added the details of some prominent four-wheeler dealers.
Shelke Said , Each vehicle sold in this this duration will attract a penalty. Many a times RTO had been notified by the City Police about the vehicles in the city without number plates and without proper RTO registration. Following the suspension, the RTO has directed all 38 vehicle dealers which include both two and four-wheelers in the city to deliver vehicles to customers only after completing the registration formalities. Inspite of providing the directives, many dealers still continue to deliver vehicles without registration numbers even though the RTO provides registration numbers within three days, he said.
Driving without proper registration number is a punishable offence under Section 39 (1) of Motor Vehicle Act, this also empowers RTO to impose a fine up to Rs.5,000. And as per the new rules, vehicle owners have to get an RC or Registration Certificate after obtaining a temporary registration number which is valid only for the purpose of taking the vehicle for registration in other offices.
Nagpur Today spoke to Avinash Bhute, Owner of Tajshre Motors, this is what he had to say: 
"City RTO has promised to give registration number in 3 working days but it never happens. It takes more then 30 days for RTO to provide the registration number and the customer cannot wait for 30 days. We and the buyers are unnecessarily being harassed. It is all the RTO's fault when they complain about the delay in  issuing of registration numbers. When we ask the RTO, they say they don't have manpower to give the registration number in 3 days. They don't consider their own issued driving license as address proof. They demand passport, LIC and election card and for our youngsters  it is quite tough to obtain all these documents. We sell 70-80 two- wheelers daily and give a lot of revenue to the department and still we have to face such problems."