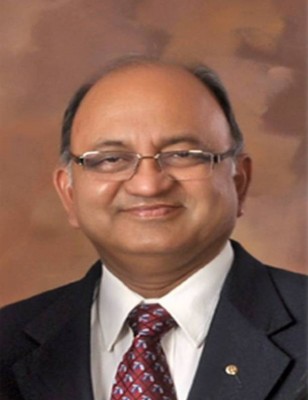 Nagpur Today spoke to ophthalmologist Dr. Prafull Mokaddam, as noted in the city for his expertise in his field as for his regular work with the underprivileged, about the drive and satisfaction in medicine and the lack of awareness in Nagpur city. Following are excerpts from the interview:
Meghna Majumdar: What inspired you to take up Medicine as a career, and Ophthalmology in particular?
Dr Prafull Mokadam: The practice of medicine, for me, is ancestral. My grandfather received his medical qualification long ago in 1905, my father's younger brother is a surgeon and both his sisters are gynaecologists. My aunt Anjali is the namesake for the Anjali Eye Hospital, which I run with my sons and daughters- in- law.
Ophthalmology was purely my own choice. The professor who taught this subject in College, Dr. Ishwarchand, taught it so beautifully that I chose to specialise in it. I began my practice in 1976.
Meghna Majumdar: Is there any particular case that stands out in your memory and has touched you as a doctor?
Dr Prafull Mokadam: In 1984, some young doctor friends and I began volunteering with Dr, Amte, already reputed for his help of the poorer sections at the time. One of the people I had operated on in those years was a young mother, not older than 30, with three children so young that they wanted to cling to her throughout. Thankfully, her husband was with her throughout, and had brought her to town to be operated. My son, in Class 7 at the time, had volunteered to hold up the light for hours due to lack of both electricity and helpers. The woman had cataract in both her eyes, and the expression on her face when the bandages were removed and she Saw for the first time, said everything.
Dr. Amte told me, "Do you know, if, for some reason, you hadn't cured that woman today, her husband would have left her and the children behind in some forest? Most tribals can't afford to feed and take care of so many dependents. You saved four lives today." His words had given me goosebumps all those years ago. I think they were also the reason that my son later told me, "I want to be a doctor".
Meghna Majumdar: How accessible and affordable are eye surgeries for the regular public in the city?
Dr Prafull Mokadam: The cost of surgery depends on the type of lens being used. Each lens has certain optical advantages and quality advantages, and they can cost anything from Rs. 1000 to Rs. 35000. In many cases, I have to pay for the surgery myself, as the patient can't afford it. Charitable organisations also pitch in sometimes.
Meghna Majumdar: How prevalent is the practice of eye donation in the city? Is there a need for more awareness?
Dr Prafull Mokadam: There is a need for more awareness in the city. The requirement is much more than donors available. A big reason for this are the many misconceptions related with eye donation, especially the thought that it will disfigure the appearance of the deceased donor. The eyes of 95% of the people are usable and can help someone in need, but don't due to misconceptions like these. The body of a deceased legally belongs to the next of kin, and without their consent, the organ can't be taken. Many people do not know that the removal is done in such a way that there is no visible difference of appearance. The eye is of no use if not removed within five hours of death, and many voluntary donors' eyes have been left unused for this reason.
A part of the blame also lies with the government, which makes certification for an eye bank extremely difficult. My daughter- in- law has a 1.5 year fellowship in Cornea Transplant in addition to her regular medical degree, yet four years have been wasted in correspondence with the Health Department and filling of formalities for the eye bank. While officials try to help us, they keep getting shifted and the procedure begins all over again. Enthusiastic, able talent often gives up due to such long formalities.