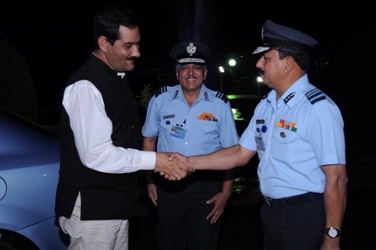 Nagpur:
Shri Jitendra Singh, Hon'ble Raksha Rajya Mantri visited HQ Maintenance command of IAF and the Army cantonment at Kamptee on his first visit to Nagpur as Minister of State for Defence on 03 Feb 2013. The purpose of the visit was to familarise himself with the above named formations.
During his visit to the Military Station Kamptee, the Hon'ble RRM visited The Brigade of the Guards and its Regimental Centre, The NCC Officers Training Academy (OTA) and the Institute of Military Law (IML). The Military Station Kamptee has evolved into a state of the art training base with its institutions of international repute. The Hon'ble RRM was briefed on the aspects of NCC Officers Training, Law Courses for the Armed Forces personnel and Recruit training being undertaken at the Guards Regimental Centre (GRC).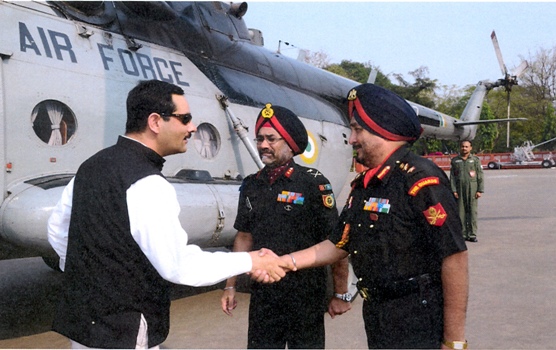 The Brigade of Guards with GRC is one of the oldest and most illustrious Regiment of the Indian Army. It was raised by the first Commander-in-Chief of the Indian Army, Field Marshal KMCariappa as first all India, all class regiment.
Shri Jitendra Singh, then visited the Headquarters Maintenance Command where he was received by Air Marshal J Chandra and Air Marshal S Sriram. Air Mshl J Chandra carried out elaborate briefing about the Maintenance Command and its functionalities. Hon'ble RRM was appraised about the modernization initiatives of IAF with HQ MC as catalyst in the entire process. Air Mshl Chandra also briefed Shri Jitendra Singh on the colossal supply chain system (logistics services) operated under the auspices of HQ MC for the entire IAF and other tri-services organisations. The key result areas of the Command, namely the modernisation with offsets, self reliance and functioning in a network centric environment were also dwelt upon.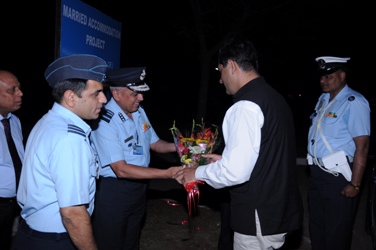 At the end of the daylong visit, while addressing the officers, Shri Jitendra Singh said "I am enamored by the high level of professionalism of the Maintenance Command and standards of training at GRC, OTA and IML. I appreciate the initiatives of Maintenance Command especially in the field of self reliance. Being an aviator and engineer myself, I can fully understand the mammoth task of fleet maintenance undertaken by you. I assure you of all my support to overcome the challenges you face.