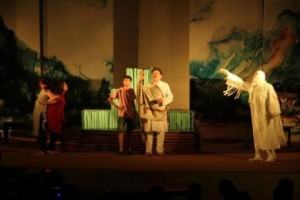 Nagpur News: "The Magical Adventures of Ranji", directed by Vikash Khurana, is a play based on some of the most loved among the stories of Ruskin Bond. What Bond created with words on paper, Stagecraft has successfully managed to recreate with sets, sound, lights and actors, on stage.
"The Magical Adventures of Ranji" is the story of city lad Ranji, played by Amol Wakhare and his journey of adjustment, adventure, friendship and love in a simple mountainous setting that is alien to him. Ranji's interactions with his grandfather, his aunts and his friends including the much- in- love invisible ghost, explore the possibility of fun and adventure out in the real world, with real people, away from television, cell phones and the internet.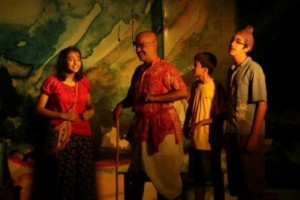 A tunnel keeper tries to rescue a leopard; a monkey and a ghost wreak havoc in the household; children run away from home, steal fruit, fight in ponds and explore mountains in a charming recreation of the simple, beautiful world of Ruskin Bond. The joy of near- forgotten things like storytelling, swimming in ponds and climbing trees- a feat commendably and convincingly managed on stage- is brought back to the audience.
The play slips from English to an easy Hindi at frequent intervals, laying further emphasis on the rural Himalayan background that is already well portrayed by the painted mountain panels and natural soundtracks. Light and sound have played an important role, especially in sequences such as the close encounter between a leopard, a running train and two helpful humans inside a pitch- dark railway tunnel. The sequence is also a perfect example of the bonding and adventure portrayed throughout the play.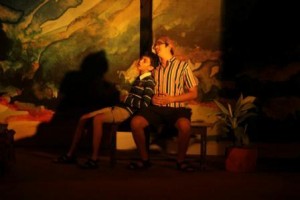 "The Magical Adventures of Ranji" stars child actors Amol Wakhare, Tanaya Chakravorty, Chirag Chugani and Arushi Thapar, with Amol in the lead as Ranji. The cast also includes Vikash Khurana and familiar, popular Stagecraft faces like Supantha Bhattacharya, N.V. Sharma, Raveesh Jaiswal, Anamika Sawarkar, Sonal Trivedi and Anurag Kulkarni, with Shweta Bhade, Mohana Mohture and Onkar Ghare.
The play was staged at IMA Hall on the 27th and 28th of October, at 3:30 pm and 7:00 pm.
– Meghna Majumdar
(Photographs by Vijay Dhole & Sanjeet Verma)