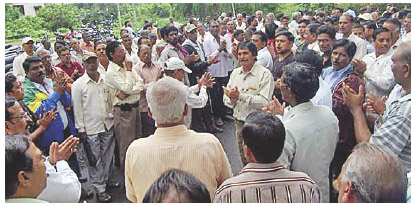 Nagpur News:
The Western Coalfields Limited's (WCL) five major unions resorted to protest in front of office of the Raiyatwari Sub – Area Manager demanding reopening of closed Chanda Raiyatwari Colliery and Lalpeth Colliery No. 1 and resolving of their 10 more demands. The 5 unions held the protests from 4 pm to 6 pm in front of office of Raiyatwari Sub-Area Manager with thousands of workers participating in the protests. The unions have decided to continue their agitation till July 24 with gate meetings, demonstrations, and public meetings. Even then their demands are not met, the unions have warned of one day or three-day and indefinite strike from July 25.
The five major unions who fight for WCL workers' rights include INTUC, HMS, BMS,ITUC, and CITU and the unions have demanded reopening of closed Chanda RyotwariColliery and Lalpeth Colliery No. 1 immediately. The JCC Committee of Durgapur RaiyatwariColliery No. 3 had submitted a report after inspection of collieries. The unions have demanded actions on the basis of that report, improvement of safety standard in all underground and open mines under Chandrapur Area, equipping of area-wise hospitals with latest medical instruments, medicines, and other medical related stuff in order to provide the best possible treatment to workers, safety gears to workers, making available of latest machineries, and spare parts, enhancement of filter plant in Durgapur Township, and proper maintenance of quarters of colonies like doors, windows, cleaning of sewage, gutter lines, and others. The unions resorted to an agitation with these demands from July 9. Now, the unions have threatened to go on strike unless WCL meets their demands till July 25.
HUNGER STRIKE: The unions have decided to hold demonstrations and go on hunger strike in front of the office of Chandrapur Area General Manager from July 14. And even thereafter the WCL fails to meet their demands, the workers would go on strike, warned the five unions.