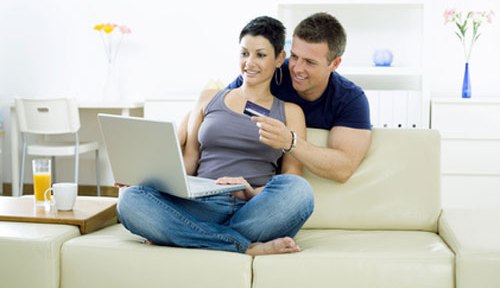 Who will put in the effort to go all the way to mall when the mall can come to you? Who will walk through the aisles in the shops when you can view the latest stalk right on your computer screens? The time that tech gurus long back prophesied about, is here. With technology bellowing with its growing rate so high, all the hustle in the tech-world is only proving to be a blessing for us. Goodbye old shops, hello virtual stores! Since internet reached every nook and corner of the world, accessing these websites has become easier. The online shopping trend has picked up pace all over the world and in our dear city of oranges too. Unfortunately, there aren't any oranges to buy on these websites, but beside that one can shop for anything and almost everything on these shopping portals.
The shopping websites have gone viral. From buying a mobile phone cover to hard disks to laptops and clothes and even furniture has been made easy. All you need is access to internet on your cell phone, computer or electronic tablet and your shopping is sorted. Shopping websites give you comfort of shopping from anywhere in the world. The first website to make online shopping comprehensible was ebay. With time, people have come to accept the security of these websites for online payment. Progressing from that, many websites offer cash on delivery (COD) service for their users with passable shipping prices. Today, Indians have a plethora of shopping portals to choose from. Some of the most popular and safe websites that Indians have opted for are-
Flipkart
Jabong
Myntra
Yebhi
 Inkfruit
Nagpur janta shared its views with Nagpur Today about this inclination towards online shopping when asked about their trust on the safety of these websites.
Sanghamitra Dey said, "I am very fond of shopping websites. They are fast and you can get exactly what you want so easily. I have no problem sharing phone number and address on the portals but I do have second thoughts about sharing the information of my debit card. But again, you can always track down where your money is going. So it's suitable to me."
Swapnil Kadu said, "Shopping websites are a boon to me. Life today is so fast that people cannot even devote time for themselves on weekends. So, to make things easier, why not shop online? You can search, choose and buy the thing you desire in hardly 10 minutes. But my shopping online is restricted to electronics and gadgets and not any sort of clothing because it is hard to visualize myself in the clothes and I refuse to buy anything I cannot try on first. Flipkart is my favourite website for shopping because it gives me a vast variety in every item on their website, they have express delivery and replacement services. Their customer care and helpline services are pretty good too. I am particularly against sharing my personal information on these websites because they spam and email me and keep calling. The best part is cash on delivery service on these websites and it's very reliable."
Amresh Kulkarni said," Flipkart is the most trustworthy website. Their products are always good and delivery is quite fast. It's worth ordering products like pendrives or memory cards and other mobile accessories from websites but I'd rather buy clothes and other accessories from stores."
Kovil Mandaviya said," I have never seen so much variety even at a real store. These websites are very convenient and they are very helpful with their exchange policies. The best part about these websites is that you can get branded products without fearing of their adultery. These websites are encrypted and I can easily save my card details on them."
While these websites have been celebrated as the progress of technology, some people have refrained from using these websites for safety reasons. It's rare to find someone who does not like to shop online but Nagpur Today managed to get its hands on that rare one.
Kunal Munje said," I'm not a fan of virtual shopping. One of the best things shopping did to a person was make him/her happy and online shopping has killed that feeling. It doesn't feel the same to check things out on a web page as it feels upon literally seeing the same thing. It is just not the same joy. I am not at all in favour of sharing my personal details online because I don't trust their payment policies. It's a pain letting them have my number because their constant calls are very annoying."
No matter how well people accept the changes and technological advantages taking place in this world, there will always be people who manage to find a glitch in them. No matter how easy and comfortable these websites make our lives, it's better to keep their usage minimal. But when there's a sale, you can always run to the store and lose those extra pounds you gained from sitting in front of your computer.
Shivangi Chaturvedi