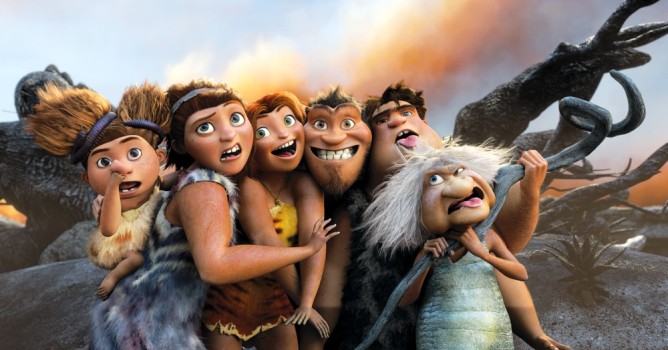 GENRE                  :Comedy, Animation, Kids
CAST                      :Voices of Nicolas Cage as Grug; Emma Stone as Eep; Ryan Reynolds as Guy; Catherine Keener as Ugga; Cloris Leachman as Gran; Clark Duke as Thunk; Chris Sanders as Belt; Randy Thom as Sandy.
DIRECTOR            :Kirk De Micco (Space Chimps) and Chris Sanders (How to Train Your Dragon, Lilo & Stitch)

After their blockbusters like the 'Madagascar' series, 'Shrek' and 'Kung fu Panda', Dreamworks Animations have again shown that excellence has no limits. The awaited movie, that had already been released worldwide on March 22,2013 have finally hit the Indian Theatres. This animated piece of show in itself shouts out loud all about pursuit of fun and entertainment.
A story of a Neanderthal Cavemen family, the Croods from ancient stone-age times, where there were no concrete houses, equipments, or even fire. Although, all the family members of this family possess unique personalities, an overprotective dad and a teenage daughter are the highlights. They live in a cave, where dad never allowed other members of the family to go out of it. We're talking prehistory here, before even the most rudimentary of HOAs. Carnivorous beasties have overrun pert near everything, and the Croods' neighbors have all been squished or eaten or accidentally poisoned—a trend that really does drag down property values while simultaneously making you ever more grateful for what you have—your nice, safe, well-constructed cave. And Grug, head of the Crood household, values his cave immensely—so much so that he rarely lets the rest of the family leave it. The story pitches up when an unusual incident takes place- a cataclysm!
In a rare moment when the Croods are out and about, the ground begins to shiver. Cracks form underneath their feet. Cliff faces begin to marsh their granite skins, sending rocks wind toward the panicked brood of Croods. The whole world seems to be falling apart—because, well, it is.
The family makes a mad dash for the safety of their cave, but find it's gone, destroyed by the calamity. "We need a cave," Grug says.
But Eep, Grug's headstrong teenage daughter, believes there may be a better way. The night before, she met a guy named … Guy! He was different, this Guy: He stood upright and wore a monkey round his waist that he called 'Belt'. Oh, and he carried the sun with him too—or, at least, a miniature version of it. He called it Fire. When Eep talked with him, Guy seemed to know something about the world ending—and he had a plan to deal with it. Maybe they could connect with him. Maybe he could help them all deal with this whole "end of everything" thing. Maybe they could learn how to make their way in the world without forever cower in a cavern.There may be no place like home. But no matter how good the home is, it won't be worth much if you're not around to enjoy it.
While we're on the topic, I should say that there's very little to fear from this movie. The Croods, for all its humorous violence, is a fun, mostly clean and utterly delightful diversion—something made for kids but meant for their parents. It's funny. It's touching. It reminds us that being a parent is tough in any epoch—but always worth the effort. It reminds us to always follow the light.