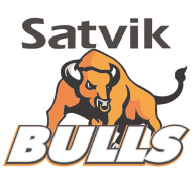 Satvik would love to get over their previous season and start afresh in this years tournament. Amol Dhake"s Satvik Bulls, the champion of first edition of Lokmat"s NPL,  will start the new season with new hopes when they will take on Raisoni Achievers in group two match of Nagpur Premier League (NPL) Football Tournament to be played at Yashwant Stadium on Wednesday at 5.30 p.m.
Last season Satvik Bulls failed to win any match and finished at the bottom in the points tally but they say that after a black day always comes a bright one so they are all raring to go and have a really balanced team to fight all the way. Team owner Amol Dhake has already said the main reason behind the drubbing was that the team was not balanced. However this time Satvik have a strong forwards in the form of their icon Imran Khan, Mohammad Bilal and Nigerian James. Apart from then Mohammd Rashid who was bought for whopping 260 points will be the player to be watched on half position. Apart from two Nigerians, Satvik have two more professionals in the form of Azhar and Golu Arkhel.
Talking to Nagpur Today,  coach Atmaram Pande said, " We had a good training session and the players are eager to start the campaign on victory note".
On the other hand Raisoni Achievrs who achieved fourth place last season would also like to make positive start. They are banking on their energetic forward Abdul Jafar (icon), Naushad Ahmad , the most expensive player of NPL-2 and Rehmatullah to take their team forward.