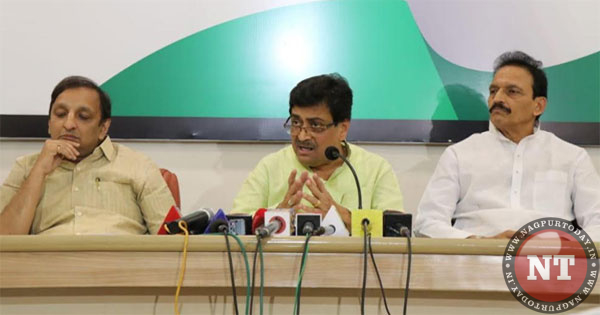 The Chief Minister should take a press conference on farmers suicide, drought, ministers' scandals, Bhima Koregaon riots, on the Sanatan Sanstha
Mumbai: "More than 17,000 farmers have committed suicide in the state. More than half the ministers in the state cabinet are accused of scams. There is a terrible drought situation. The Chief Minister of the state has never taken a press conference on issues related to Bhima Koregaon, Sambhaji Bhide, Milind Ekbote, Sanatan Sanstha's Bomb Production Factory. But today, at a press conference on Augusta Westland, he has made false allegations against Congress leaders. His present press conference is that of thief complaining about a robbery. Why doesn't he speak out against the Rafale aircraft same?" asked Maharashtra Pradesh Congress Committee President Ashok Chavan while addressing a press conference at Mumbai's Gandhi Bhavan.
Chavan countered the false charges of the Chief Minister with a number of proofs. He said that BJP has started a program to make false allegations by placing a press conference to defame Congress leadership while keeping upcoming elections in mind.
"Hiding behind Christian Michel, the BJP government is trying to cover its corruption and scams. Why did Modi lift the Congress government's blacklisting of Augusta Westland and allow them to participate in Make in India projects?" asked Chavan.
In February 2010, through an international tender process, 12 VVIP helicopter contracts were procured by Augusta Westland and its parent company, Finmeccanica, which amounted to Rs 3,546 crore. After media reports on 12 February 2013, the UPA government ordered the CBI to inquire into the Augusta Westland helicopter purchase transaction. In the Rajya Sabha, on February 27, 2013, the then Defense Minister AK Antony in proposed to conduct a Joint Parliamentary Committee inquiry into the Augusta Westland, but the BJP opposed it.
On 1 January 2014, the UPA government cancelled Augusta Westland purchase contract for 12 helicopters. Until then, Augusta Westland had been given Rs 1,620 crore and three helicopters were received by the Indian government. As soon as the cancellation of the contract took effect, the UPA government confiscated 240 crore rupees from Augusta Westland's Indian bank and filed a lawsuit against Augusta Westland in the Italian courts. On May 23, 2014, the UPA government won the case and recovered the bank guarantee of Augusta Westland. In return for the Rs 1,620 crore given in August, the government recovered a total of Rs 2,054 crore. The amount paid for in August was doubled, if cost of three helicopters worth Rs 886 crore are taken into account.
On February 15, 2013, the government began the process of blacklisting Augusta Westland and Finmeccanica. The companies were blacklisted on July 3, 2014. Then, the Congress government started the investigation into Augusta Westland.
An FIR was lodged. The contract was canceled. The company was blacklisted. In exchange for 1620 crores, the government recovered Rs 2,954 crores.
But on August 22, 2014, the BJP government lifted the ban imposed on Augusta Westland and Finmeccanica. On August 3, 2015, Augusta Westland and Finmeccanica participated in 'Make in India' through Aero India 2015. In October 2015, the Modi government gave permissions for a Joint Venture to Indian Rotorcraft Ltd to manufacture the AW-119 military helicopter in India through Augusta Westland and Tata through the Foreign Investment Promotion Board. And, in 2017, 100 naval helicopters were included in the purchase process.
"Why is the Modi government showering such favours on blacklisted companies," asked Chavan.
The Modi government lost all the prosecutions against Augusta Westland. On January 8, 2018, an Italian court acquitted Augusta Westland Chief Executive Officer Giuseppe Orsie and former Chief Executive Officer. On September 17, 2018, the High Court of Milan, Italy, said there was no corruption by Indian officials in this case. Even here, the Modi government lost the case but they never appealed.
"The false story of Christian Michel was written by the Modi government and the ED in July 2018. To hide their corruption and scams, the Modi government is playing a dirty politics of defamation," said Chavan.
"In July 2018, Christian Michel's lawyer, Rosemary Patrizi, and sister, Sasha Ozeman, had given an interview published in various media outlets that the Modi government and ED had offered to drop the case against Michel if he named Congress leaders. This is a part of a planned conspiracy, which is using Christian Michel to defame Congress leaders," Chavan added.
Congress Party's Questions to Narendra Modi in the Augusta Westland Case
1. Why were Augusta Westland and Finmeccanica excluded from the list of blacklisted companies?
2. Why were blacklisted companies, Augusta Westland and Finmeccanica, involved in 'Make in India'?
3. Why was a blacklisted company, Augusta Westland, allowed to produce AW 119 military helicopters by the Foreign Investment Promotion Board?
4. Why was the blacklisted Augusta Westland allowed to bid for 100 naval helicopters?
5. Why did the government not appeal even after losing all the cases against Augusta Westland and Finnmecanica?
6. Why is the Modi government hiding its own corruption and scams by using Christian Michel?
"Chief Minister Devendra Fadnavis, Prime Minister Narendra Modi and the BJP will have to answer these questions. The Sahara diary has named BJP leaders. They should be investigated before Congress leaders are asked for an explanation," said Chavan.