The NMC is likely to mop up Rs 1,40,137.51lakh from various sources mainly the taxes plus Rs 2594 lakh balance amount from 2012-2013 budget. Total Rs 1,42,731.51 lakh. The expenditure for the fiscal year on various heads stands at Rs. 1,42,717.29 lakh.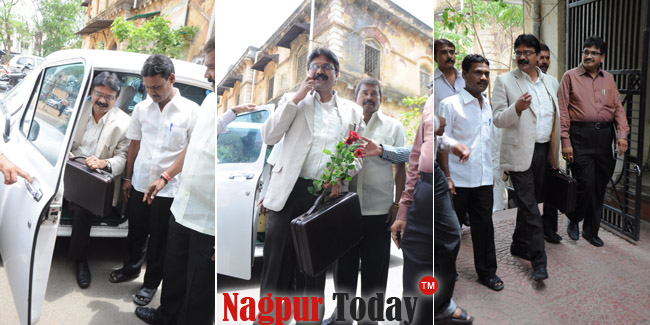 Nagpur News:
"The budget should be balanced, the treasury should be refilled, the public debt should be reduced and the arrogance of public officials should be controlled."
The Standing Committee Chairman of Nagpur Municipal Corporation (NMC) Avinash Thakre presented the much awaited Budget of NMC for 2013-2014 fiscal on Wednesday (May 29). "I, myself, consider the most happiest person to present the Budget for 2013-2014 as this year has been declared International Women's Year. Similarly, this year is former Maharashtra Chief Minister Vasantrao Naik's Birth Centenary Year, and above all the celebrations for NMC's 150th Anniversary begin from this year," said Avinash Thakre before tabling the Budget.
The Budget proposals that could help NMC mop up revenue for 2013-2014 fiscal stand at Rs 1,40,131.51 lakh. The total amount would take a round at Rs 1,42,731.51 lakh with the addition of Rs 2594 lakh balance amount till 1-4-2013 from the budget for 2012-2013.
The Standing Committee Chairman of NMC Avinash Thakre, while presenting the budget proposals, stated that the NMC could receive the revenue for 2013-2014 from various sources mainly Rs. 1,20,721.93 lakh from proposed recovery of various taxes, Rs 12,625 lakh from Capital income, Rs 6185.58 lakh from security deposits, and Rs 605 from advances and grants. The total proposed revenue stands at Rs 1,40,137.51 lakh plus Rs 2594 lakh balance amount thus the proposed revenue for 2013-2014 is at Rs 1,42,731.51 lakh.
On the expenditure part, Thakre's budget presented the proposed amounts on various heads like Rs 72,426.29 lakh on administration, Rs 65,661lakh expenditure on Capital investments, Rs 3980 lakh on security deposits, and Rs 650 lakh on advances. Total proposed expenditure amounts to Rs 1,42,717.29 lakh. The balance amount till 31-3-2014 stands at Rs 14.22 lakh.
"The Nagpur Municipal Corporation is the first Corporation, not only in Maharashtra but in the country, to prepare the budget proposals on the lines of National Municipal Corporation Accounts Manual, and according to the NMC's commitments on reforms to Central Government through JNNURM," a confident Thakre said.
"I kept in mind the nine most important aspects for which need reforms, and I will strive hard to see that the reforms bear fruits through the budget proposals," Thakre asserted . The aspects are: General Administration Department, Planning and Regularization, Public Works and Civic Amenities, Health, Cleaning and Wastage Management, Public Education, Forestation and Environment Protection, Urban Poverty Alleviation and Social Welfare, Other Essential Services, and Recovery and Taxes, Thakre said while presenting the proposed Budget.
Thakre has claimed to have taken measures to raise NMC income. It includes ` 222 crore from property tax. New properties will be re-evaluated by using satellite photography. Multi storey buildings being constructed in the city can prove a good option of revenue. Town planning department is being given the target of ` 101 crore. 'One desk' scheme is being okayed for speeding projects on build, operate and transfer (BOT) basis. Telecommunication companies will be permitted to lay cable duct in 1700 kilometer under optical fibre cable network scheme. It will generate handsome income for NMC, expects Thakre.
Mayor Anil Sole presided over the budgetary meet of NMC held at Town Hall in presence of deputy mayor Sandip Jadhav, leader of opposition Vikas Thakre, ruling party leader Pravin Datke, corporators, municipal commissioner Shyam Wardhane and officers.
Thakre's e-budget
Avinash Thakre who is a software engineer seems to have left imprint of his profession on the budget. It will not be incorrect to say that he presented a 'e-budget'. He announced computerisation of e-governance system, facilitation of different schemes on mobile phones, garbage audit through mobiles, property tax fixation by using satellite photography, data centre on BOT, wi-fi city and city serve line system.
Revenue generation through advertisement
The NMC does not want to lack behind in generating income through ads. Standing committee has proposed to raise income through advertisements. Following the Outdoor Advertisement Policy-2001, amended policy of 2009 and directives of the High Court, NMC has proposed different ways for increase revenue. It wishes to generate income through new projects on BOT, billboards on NMC properties.•