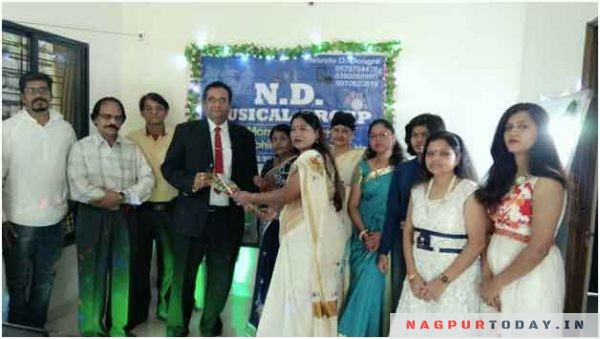 N D Musical Gp organized " Tere Dil Ke Pass hi Hai Meri Mazile Maqsud………. " A online Musical concert . Many viewers was on line to enjoy blend of new and old melodious songs. Dr Sanjay Uttarwar , Director of Sa Re Ga Ma Cultural gp who is known as Voice of Mukesh in Musical circle was Chief Guest and Guest Singer for the event. Title song , Tere Dil Ke Pass hi Hai Meri Mazile Maqsud………sung by Guest singer Dr Sanjay Uttarwar has taken audience to Sangam era of great show man Raj kapoor. Audience bubbles with charming Love triangle of 1964 among Raj kapoor , Vaijayntimala and Rajendra Kumar. Dr Uttarwar received loud applaud and once more for his presentation.
Other singers were , Nanda Dongre, Mahesh and Bhavna Lalwani, Anand Raj Aanand, Shail Sakhare, Suresh Kathale, Santosh Banabakode, Pradeep Awdukar, Tushar Rangari, Ashok Burde, Anil Bagde, Alka Waghmare, Vaishali Mandare, Manjiri Paunikar, Sharda lanjewar, Yadnika Khobragade, Kamal Vijay, Siddharth Dongre, Shubhangi Waghmare.
Soulful solo and duet songs like , Duniya Banandewale…, Ek Pyar ka Ngma Hai…., Kya Mausm Hai…., Chup Gaye Sare…., Tu Pyar ka Sagar hai…., Mai Pyar ka Diwana…., Ye dil Muze Bat de…., Mera dil Ye Pukare aaja….., Kisliye maine pyar kiya…., Dil to hai Dil …., Koi Haseena Jab Ruth Jati hai…., Thande Thande Pani se…., Tumhara Pyar Chaiye ….., and many more songs were presented by singers.
During program some bhim songs like… Mazya Bhimachi Punyai…, Bhimrayacha Mala…., Amrutwani Hi Buddachi…., Mazya Bhimachi Punyai…., Bhimraj ki Beti…., were presented by singers.
All singers impressed the audience with remarkable performances during program. The audience on its part kept cheering them and encouraging them to give best by putting their comments in comments box. Till end majority of audience praise this program . 1200 plus compliments was there form viewers.
During the said program Organisers welcome Chief Guest and guest Singer Dr. Sanjay Uttarwar . Nanda Dongre, Siddharth Dongre, Anand Raj , and all felicitate him by offering buke for his outstanding contribution to the musical world of Nagpur. He Shared his views while giving reply to felicitation and extend his best wishes to future of group and give thanks to organizers for lovely welcome. By profession , He is a Principal of Engineering College , but having immense interest and contribution to the field of music. He is a renowned and versatile singer of our city and was invited as Guest Singer by many Groups of Nagpur. He is known as a Vice of Mukesh in Musical world. He is renowned speaker and orator from central India.
Anchor Anand Raj Anand done his job nicely. He narrate various stories in connection with songs. He has very nicely introduce guest Singer of event Dr. Sanjay Uttarwar to the audience who is recipient of eight International and National Level awards and renowned academician of region.
Viewers gave thanks Nand Dongre for lovely organization and extend their good wishes for future of the them. N D Musical gp conduct various programs on line. Mrs Vandana and Arun Dube, Mr Sanjay and Vaishali Belgamwar, Mr and Mrs Priya Chidrawar, Mr and Mrs Shefali Rewanwar, Mr Umed and Mrs Megha , Mr Narendra and Vidya Kalaspurkar, Mr. Raj Shekhar and Sangeeta Jajee, Mr. Meherprasad and Manisha Zilpelwar, Mr. Shekhar and Bharti Zilpelwar, Mr Sachin and Shilpa Padmawar, Mr Raj and Nilima Patharkar and many more music lovers has joined program.
Program comes to end at 8.30 pm and music lovers moves with euphoria of sweet songs.