Tension prevails in Dhammanagar

Nagpur Today: There have been reports that some miscreants have made Dhammanagar as their haunt for some time. A Shiv Jayanthi celebration was organized in that area on March 19, 2014. Many local residents were present in that area. Some miscreants who were present in the area and had the sole aim of disrupting the peace and tranquil of the area started to abuse and make vile statements against a popular leader of yesteryears in Dhammanagar area before a lady resident of the area named Vidhya Shailesh Meshram aged 36 years. She in turn called Human Rights Activist Balasaheb Meshram to the spot.
Human Rights Activist Balasaheb Meshram was accompanied by some social workers and activists who tried to talk to the miscreants amicably. However the miscreants were aggressive and claimed that nobody can take any action against them. They claimed that even the police take any action against them.
When issue seemed to aggravate and tension started to escalate, Human Rights Activist Balasaheb Meshram accompanied by the social workers and activists went to Ganeshpeth Police Station along with Vidhya Shailesh Meshram who was the lone witness of their vile comments.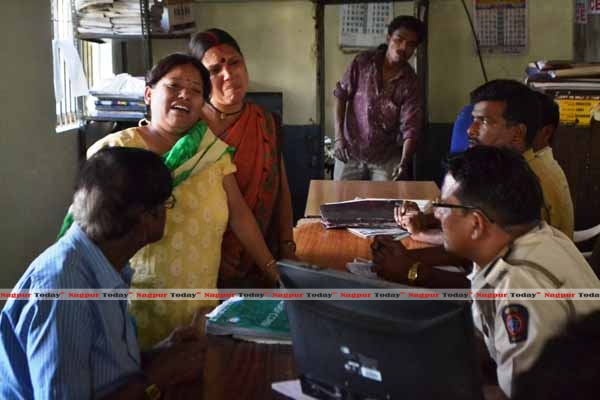 They lodged the complaint against those miscreants. The miscreants too reached the police station. There a heavy discussion and argument ensued in the Ganesh Police Station. PI Tembre of Ganeshpeth Police Station tried to control the situation; however, the tension seemed to only escalate.
Nearly 150-200 people belonging to various political parties gathered in Ganeshpeth Police Station in support of Human Rights Activist Balasaheb Meshram.
The police personnel assured the people who had gathered in the police station that they will register a complaint and will investigate the entire matter. They requested the people to co-operate with the police personnel and maintain peace.
While speaking to the media, Human Rights Activist Balasaheb Meshram said that if the police do not take action against the miscreants, they will launch an aggressive agitation.
The other leaders which include local Shiv Sena leader Munna Tiwari, Vidarbha President of Human Rights Sohail Khan, President of Maharahtra Auto Drivers' Association (Nagpur) Dimple Shetty etc said that the miscreants who have made such vile comments should not go unpunished They demanded for immediate arrest of the miscreants.
When Nagpur Today contacted the Ganeshpeth Police Station, initially they tried to play down the matter and said that no such event had ever occurred. But when we insisted that we have photographs and video coverage of the entire event, they said that they have talked to both the sides and have asked them to settle the matter amicably. However we are still investigating into the matter and will inform soon. Till the time the news was filed the police had not taken action against anyone.