Traffic blocked for hours, people staged protest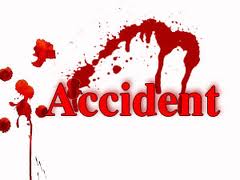 Nagpur News : Traffic on Hingna road near Balaji Nagar was chocked-up for hours followed by a protest on poor traffic control after a ten-year-old boy was killed and his friend injured in a mishap on the same road on Monday afternoon.
The varying statement of eye-witnesses, deceased's parents and police has led to also led to chaos and a charged atmosphere on the spot.
Fourth standard student Rohit Katre, a resident of Sai Nagar, was declared during treatment at Lata Mangeshkar hospital on Hingna road. Rohit's friend, Nakul Chaurasiya, 9-year-old, escaped with minor injuries. Rohit and Nakul had just stepped out of their Sanskar Convent in Durga Nagar when the accident took place.
Rohit's father Ramdayal claimed that Rohit and Nakul were seated in an auto rickshaw when suddenly a truck heading before them applied brakes. "Thus, to prevent collision, Rohit's auto driver applied brakes too causing Rohit to fell down from the auto followed by Nakul," said Ramdayal, a labourer at a private company.
He claimed that before Rohit could get up, another auto rickshaw that was behind Rohit's auto rickshaw slightly ran over him to his shoulders.
However, Hingna police gives a different version of the accident. PSI Pankaj Bondse, who investigated the spot, claimed that Rohit and Nakul were walking to nearby bus stop when auto rickshaw carrying school students hit the duo.
Bondse told that on hitting, Rohit was thrown in air and fell on the front shield of the auto before he came under the wheels. "Auto driver immediately applied the brakes but still the wheels had run over his shoulders," he said.
Nakul sustained injuries on his legs. Accused auto driver rushed both victims to nearby Lata Mangeshkar hospital where Rohit was declared dead after an hour.
While being rushed to hospital, an injured Rohit was continuously asking police to call his father, Ramdayal.
Nearby residents and Katre's supporters blocked the traffic on road claiming that though busy, there is poor traffic management on Hingna road. People protested that there should be a speed breaker and a proper traffic signal to prevent accidents.