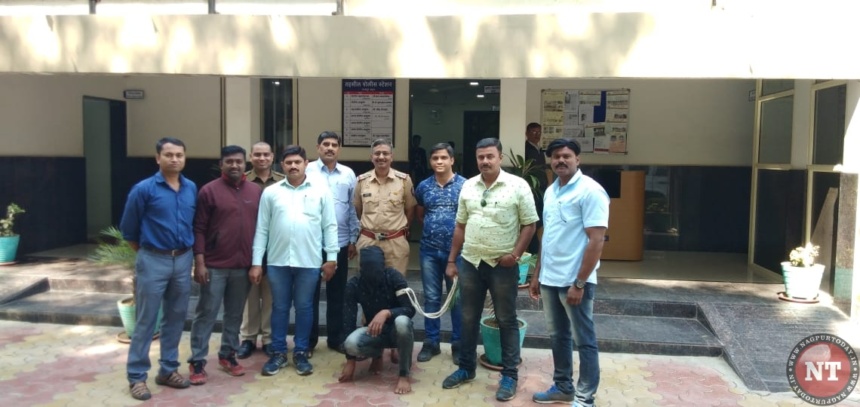 Nagpur: In a swift action, Tehsil police averted a volatile situation by cracking theft at high-profile Dwarkadhish Temple situated on crowded Dharaskar Road in Itwari. A 20-year old burglar, hailing from Madhya Pradesh, who had targeted the donation box of Dwarkadhish Temple and decamped with cash in a daring act, was nabbed within four hours of the crime while trying to flee city.
The arrested accused has been identified as Dhanraj Krushna Yadav (20), native of Amla, Betul in Madhya Pradesh but currently staying in Pachpaoli area in city. The accused is a professional criminal. He is facing several offences including burglaries in temples. In the wee hours, 3.45 am, of Monday, Dhanraj had committed the theft at the temple. Dwarkadhish Temple on Dharaskar Road in crowded Itwari is a 3-storied temple. At ground floor, shops are situated while the temple is in first floor. Some rooms are on other two floors. The accused Dhanraj Yadav who was well versed with the vicinity climbed to the terrace of the temple through pipes around 3,45 am on Monday. He then descended on first floor and opened the lock of temple by a duplicate key. Once inside the temple, Dhanraj smashed the donation box with sarata. But since the donation box weighed around 70 kg, he anyhow lifted the box and carried to the terrace on his head. He then removed all cash and threw the donation box in the bushes at rear side of the temple and decamped from the scene. Surprisingly, three employees of the temple were sleeping at the balcony of first floor but they were not 'disturbed' by all that noise the burglar made.
The theft came to the notice of the employees and Tehsil police were alerted. On the directives od senior police officials, teams of cops were sent to bus stand, railway station and at other places for nabbing the burglar. A team of cops spotted a suspicious man at Itwari Railway Station platform and confronted him. Upon frisking of his bag, cops saw currency notes in denomination of Rs 10, Rs 20, Rs 50, Rs 100 and Rs 500. Subsequently, the man was subjected to intense questioning. Succumbing to the grilling, the accused Dhanraj Yadav spilled the beans and confessed burglary of cash from donation box of Dwarkadhish Temple in Itwari. Cops seized the stolen cash and placed Dhanraj under arrest after booking him under Sections 457, 380 of the IPC.
The theft case was cracked by PI Vaibhav Jadhav, API Ramdas Patil, ASI Shivsagar Mishra, head constable Samir Sheikh, NPCs Sachin Tapre, Pravin Manapure, constables Sachin Nitavane, and Pravin Landge under the guidance of Commissioner of Police Dr Bhushankumar Upadhyay, DCP Rahul Maknikar and ACP Rajratan Bansod.